Have you seen those buttons at the top of some Instagram feeds? They look really smart and professional, especially when users tailor colours or themed buttons to their own brand or identity. Would you like to try making your own Instagram Highlights?
Let me show you what they are and how to make your own so that you can make your own IG account look even better. I used my own post to improve my own Highlights at DashKittenPhotos!
What are Highlights?
Highlights let you curate items you like in a way that doesn't make your timeline look like a scrapbooker's worst nightmare. You might not want a cat water fountain or a short video of cat toys to pop up in the middle of your feed if you are aiming for a certain look, such as special cat portraits, so adding them to a highlight button is a nice compromise.
Remember this post on branding in the 52 Assignments series? It advises on how to give your IG account a focused look that people will recognise as uniquely you. Highlights helps you feature friends, cat toys you like, or favourite sellers in a highlight and keep your branded look smart and cohesive.
A great example of focus is the account of friend Adventures With Friday. Check out the Instagram Highlight covers in matching colours.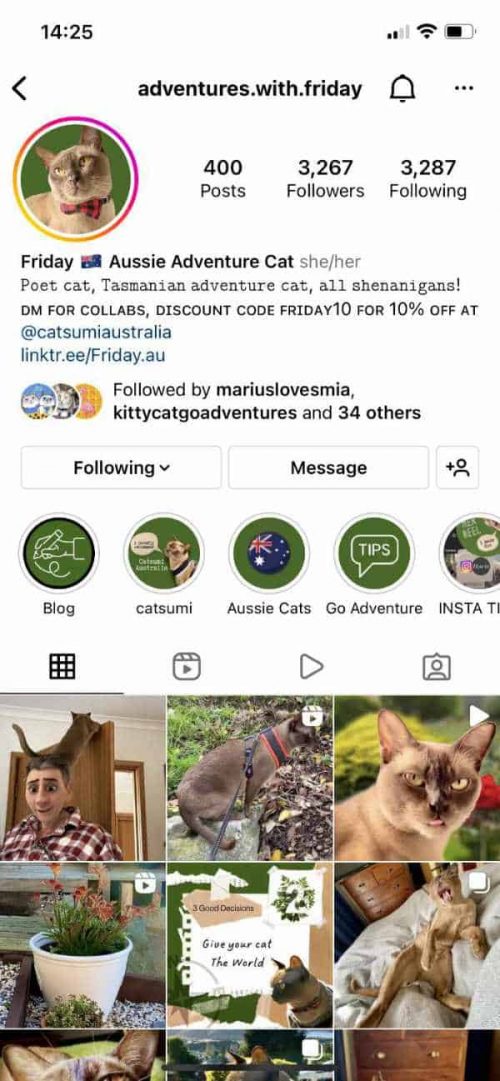 Check out our friend Adventures With Friday for a cohesive visual button look (left) and the Highlights Editing Screen (below)
The Impact of Highlight Buttons
Here you can see my most recent Highlights buttons. I have aimed for a cohesive look by using one cat photo and changing the filter used for each one. I used Photoshop Camera for the image treatment. Yes I have used one image twice, just because I like it!
I recently added a new 'GiftGuide' highlight so I can share cat friends' cat costumes and bandanas, art and graphics. Besides that button I introduce friends, and then showcase Instagram 'security' advice against spammers. You can see that each Highlight covers a different interest or feature.
Adam Juniper (author) also suggests you use the Highlights option when you want to collect some of your best posts and stories.
A rescue has a different use for Highlights
Check out OCShelterCats who use their highlights for very specific purposes allowing them to focusing their time on essential rescue.
The Highlights for this rescue answer questions, and send people in the right direction for frequently asked questions and answers (FAQ's/FYI's) The motifs also spotlight urgent rescue pets.
How To Add Your Own Highlights
For you to be able to use an Instagram Highlight you need to have posted images or video in your Stories already. You can't upload them directly to a Highlight. This means your Highlight may need a bit of planning so you include all the things you want.
Here's an idea of how to start:
Post the material you want to use to Instagram Stories. (You will find Stories that are a long way past their 24 hour date here).
Set up a Highlight and give it a name. You will be asked to add an image too.
NOTE: If you want to use a special set of images for your highlights post these in Stories too. I have tried to develop a certain look using a particular photo or pose (I had to add this even though it isn't relevant to the button's contents). Some people buy or commission a custom made set of buttons.
Start to add items to your Highlight by tapping on the circle with the plus sign below your biography. Then scroll back through your Stories until you find the things you want to include.
NOTE: You can add to and edit a Highlight at any time. See this image from my new 'Shopping' Highlight which I will add to over time.
If I created a Highlight that I really liked, I have the option to make it into a Reel.
Tags for Highlights
Adam Juniper recommends that you tag your location (optional if privacy is an issue) and use the hashtags you would use on a standard IG post. It is no longer essential to use 30 hashtags.
You are better off focusing on highly tags relevant to you and your niche. I might use #catphotography not just cats or catlovers. You might want to add hashtags for an American State, part of New Zealand, or country in Europe as well as a specific cat breed, action or event like #wickedcatwednesday!
Highlight Naming Tip
Keep your Highlight name to 12 letters or less. This way IG will not cut it short.
An example of what happens you can see on my Highlight line. I called my Toulouse series Pencil Fun but you don't see it all so I need to rethink the title. It's a tough one as I want to include pencil and ….. silly right?
There doesn't seem to be a limit to how many Highlights you can make, although you will want to be selective not silly and add too many. Highlights let you focus on activity, interests or places you love but that may not have a place in the middle of you Instagram feed. Browse the accounts of some of your favourite people to see how they handle Highlights.
---
Highlight Button Resources
DesignShack has examples of how custom buttons can look.
Etsy has lots of sellers who make custom buttons for good prices.