Friday is not a day we want to relive again, ever. It was the most traumatic day since Dash Kitten was killed.
Discovering Miranda
I heard a couple of cries early in the morning 5.30 a.m. but did not realise what it was until I went and checked outside. Miranda was hidden beneath a large tangled bush and when I moved it out of the way I realised she had a 'stick' near her shoulder. This stick turned out to be an arrow that had stuck in her body. I am not going to publish the photos the vet took of Miranda with the arrow in place but these have been sent to the press.

I shouted to Paul, "Get dressed, get the car out. We need to go to the After Hours Vet Now"

Between us we lifted Miranda from the foliage as gently as we could and carried her into the car and laid her on blankets. Then we were off like lightning to the emergency After Hours Vet. We telephoned ahead to let them know to expect us. No time to wash, we just threw on clothes and ran.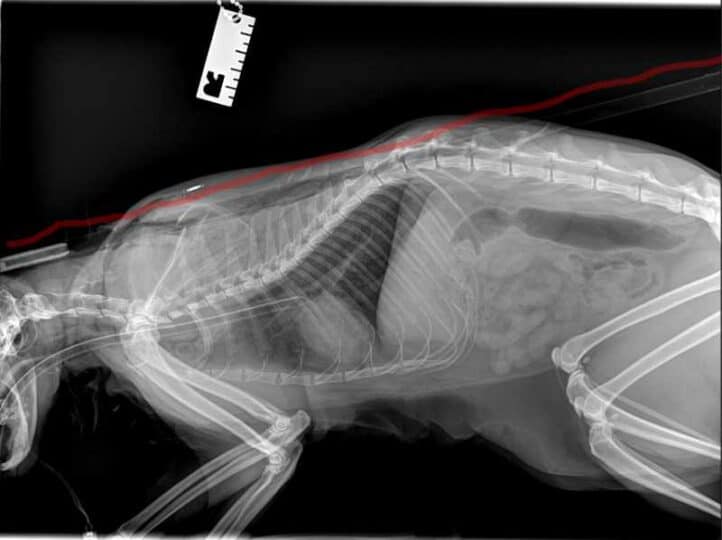 The Emergency Vet
The vet staff were ready and whisked her into the back for an assessment and immediate urgent treatment. Miranda's body temperature was dangerously low and she had lost a lot of blood so she was warmed up and given strong pain relief. We were told she would be going into surgery after her blood pressure increased and she would need a blood transfusion.
After this the vet, Dr Sally, came out and gave us her initial assessment. Miranda was touch and go. Arrow wound survival depends where the arrow goes in, what damage it does and if it can be removed safely. They would need to take x-rays (you can see one of them above). We nodded and tried to ask sensible questions.
Cat Blood Transfusion.
This is a 'did you know' moment. Because we had no idea about this.
Miranda had a transfusion to replace her lost blood and it was donated by the vet's dog. Yes, you read that right – dog blood can replace cat blood for transfusions.
Dog blood lasts longer. Cat blood only lasts two days! It does not keep.
Miranda (and every cat) can only have ONE dog blood transfusion because of antibody build up.
We were told to go home and come back at After Hours closing time (9 a.m.) to collect Miranda for transfer to our own local vet. The After Hours surgery works overnight, not during the day and we were happy to transfer her to our vet as he is a real cat man.
We arrived to find that Miranda had come through her surgery successfully and Dr Sally explained the surgery they had performed as well as showing us an x-ray of the arrow in place which had been taken after Miranda was anaesthetised. Our blood ran cold.
The arrow had entered in front of her shoulder, travelled along damaging her shoulder blade (scapula) and clipping off the tops of some of the bones on top of her spine. She had been unbelievably lucky and the vet had been able to take the arrow out safely.
We took the arrow with us to report to the police. I am not sure they would be able to do anything but we needed Miranda's attack to be on the police records.
Taking Miranda To Our Vet
Miranda was transported to our own vets and placed in the kitten incubator. Dr Alix said she would be resting at a cosy C28/F82 and they would monitor her throughout the day before deciding if she needed to stay overnight.
Thankfully after a very long and traumatic day we were able to collect Miranda to bring her home at 6.30 p.m. The vet surgery believed she was strong enough to cope with cage rest at home. She has strong pain killers to be administered twice a day.
Miranda had been shaved while at the After Hours surgery. She looks dramatically 'punky' from her front shoulder across her back, dramatically different from our tuxedo girl's usual confident and sleek black and white self. On the positive side, we saw her first sign of recovery when she hissed at Toulouse as he passed her crate. (Toulouse teases her when they are out in the garden and she hadn't forgotten!)
Miranda at Home
While we waited for Miranda to be out of surgery I informed my local lost and found pets group on Facebook. I gave a general area of the attack's location to warn as many people as possible. I wanted everyone to know that pets were at risk after dark. It was at this point a neighbour told me their beloved cat had been found dead some time before. So, this was not the first attack, and I have a good idea of the direction the killers came from so I will be contacting the relevant people over the coming days.
I am also updating the After Hours vets about Miranda's progress as dealing with the event must have been as traumatic for them as it was for us. I was able to tell them that alongside her pain relief she had managed to eat a portion of smoked salmon this morning. We also think that she seems to be planning her first escape from her crate.
Everyone here knows how amazing their vets are when put to the test. We are deeply grateful to Dr Sally and Sam at the After Hours Vets, and Dr Alix and the staff at Valley Cottage Vets here in Stokes Valley.
I want to end on a positive note. Miranda is home, and on the road to recovery. She will get the best of care and the insurance (thankfully) covers a portion of the large bill. Here is our girl in her summer prime.