Capturing the perfect shot of your cat can be so rewarding, but have you ever thought about taking your cat photography to the next level? By sharpening just a few camera skills, you can capture even more stunning images. Why not give my suggestions a try and see how your cat photography will improve and dazzle your friends?
These cat photography practices will become natural over time. Try them out one by one and have some fun.
Closeup Cat Pictures Stun Your Friends
People stay too far away from their cats when they take photos, get close and get low. Eye level with your pet is immediate and intimate.
Unless you have a confident cat who is comfortable with you and your camera, try a kit lens to zoom or a lens like the Canon 55mm-250mm. You can get in close without intimidating your cat, just keep your lens steady or use a small tripod. Another idea is taking lots of photos until your cat gets used to the shutter noise. This worked for me and now my cats ignore the shutter or, one or two will strike a pose (yes, seriously).
TOP TIP Neutral and uncluttered backgrounds help spotlight your cat.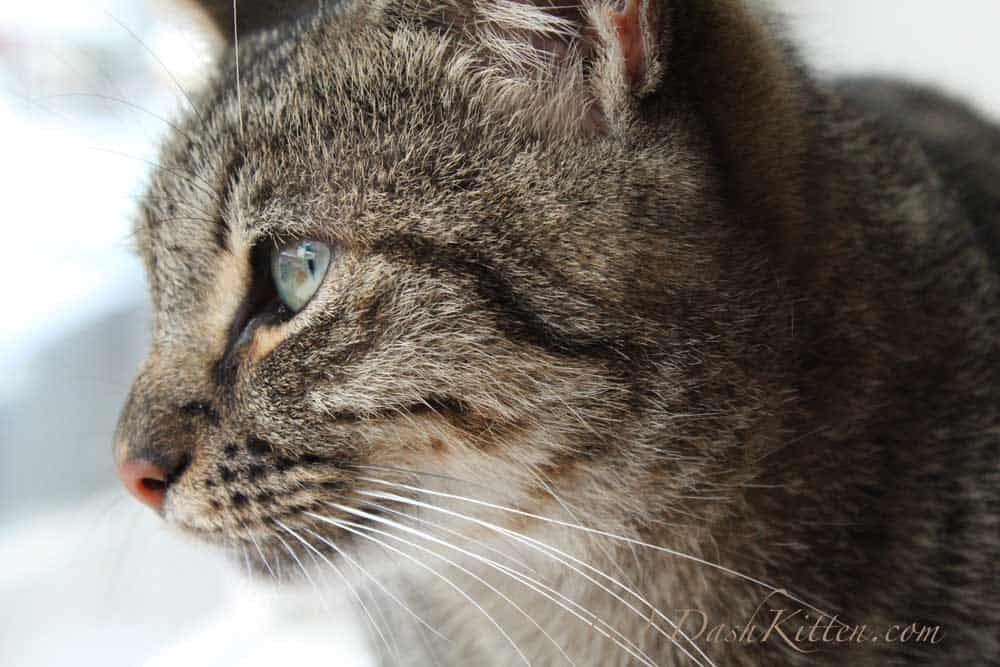 Natural Light Loves Your Cat
Indoor and outdoor cats really come alive in what photographers call 'natural' light.
The perfect light for taking a cat photo is a bright but cloudy day. These happen a lot more than you think and soften shadows that are harsh and unforgiving in bright mid day sunshine. For great shots choose a location near a window, in a sun room/catio, or out in the garden. These will let your cat fur shine and makes them look so much better.
Continuous Shooting Mode Captures Your Cat
Continuous Shooting Mode [Continuous-servo AF (AF-C) for a Nikon] tracks and focuses on your cat much better than you or I ever could with a rapid burst of shots. To start, press the shutter halfway down to engage the autofocus then, as you follow your cat the camera starts measuring where your cat is and keeps it in focus. A good alternative is 'sport' mode the runner icon on your camera dial.
You can concentrate on keeping your cat in the frame which will be enough of a challenge. So, let your camera help you take pictures of a cat!
4. Auto Focus Points Get Pin Sharp Photos
On a DSLR (or mirrorless) camera you might aleady have set up what are called focus points. This is a series of dots or marks that allow you to focus on a specific point with your camera.
Your manual will tell you how to change these if you want to but for new camera users and the one I use most, is the central focus point. This allows you to point the central mark at a cat's eye (or the eye closest to you) and get it in focus. Get the eye sharp and people forgive you a lot.
5. Learn About Your Shutter Speeds
Finally, a longer cat photography tip but one that will repay extra study when you have time available.
Learning about shutter speeds is a great way to boost your personal photo confidence, and it certainly helped me when I began to take my first cat photos. You can explore what happens when you change the amount of time your camera's shutter remains open by playing with camera modes like Aperture Priority and Shutter Priority.
Be prepared to make lots of mistakes and discover lots of fun things. Give yourself permission to play and maybe you will surprise yourself with amazing shots. Check the 'Settings' of a successful photo and note them down.
These are the modes most cameras work in:
Automatic Mode, P or A – where the shutter speed is caculated for you. This is great for a beginner because you take clear photographs from the start.
Aperture Priority Av/A– changes your shutter speed but lets you adjust aperture. I take a lot of my cat photos this way it's a great first step.
Shutter Priority Tv/S – you choose the shutter speed and the camera selects your aperture. I am slowly getting to grips with this – it's my bugbear and I don't know why!
Manual – you select shutter speed and aperture yourself. Don't start with this unless you have an experienced photographer buddy who you can refer to for advice. Manual may be the 'way to go' for some photographers but none of them have just picked up a new DSLR or mirrorless camera.
TECH TERM: Shutter speed is written in seconds or a fraction of a second. For example, a 1 second shutter speed is typically displayed as a single number with a quote sign or a letter "s" at the end of it, such as 1? or 1s. Whereas a fraction of a second such as 1/250 is typically displayed as 1/250 or simply 250 on most cameras.

Recommended post at Photography Life.
Be Brave. Try Anything.
Keep Your Camera Lens Clean!
---
Photography Resources for Beginners
This post is an award winner at the Annual CWA – Cat Writers' Communications Contest for the year 2022