Do you avoid editing video because you think it's too scary and the software looks difficult? Let me show you that you can, with a bit of practice, edit your first cat movie and have fun too.
The first thing to remember is that unless you are shooting video at a professional level, you will be using your smartphone and this is the best news you will read today!
A mobile 'phone is an amazing device that gives you a 'voice' to get a video message or story across. Editing skills will focus your message and make it more powerful so let's start your editing journey.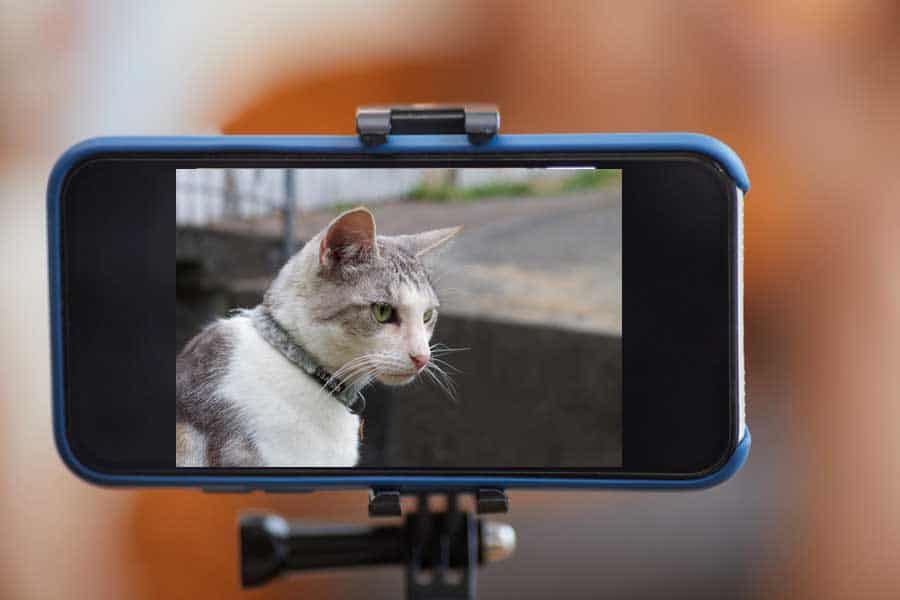 You Need Two Things To Edit A Movie :
Movie editing software for your computer or smartphone (free or paid).
Patience while you learn.
How Do I Start Editing a Movie?
When you sit down to edit you will have a selection of video clips to work with. Make a note of any moments you need to incorporate to help tell your story. Here's what I mean; when I created my own cat drinking fountain video (below) I had a note to remember the texture of the metal, the fountain working, and the different parts of the fountain.
Movie Editing 101
To edit a movie you need to make friends with your editing software. This means not looking at it as though it is the flight deck of a Jumbo Jet but as a tool you will use. Adopt an 'I can do this' movie maker attitude.
Open your smartphone video editor or your PC or Mac photo editing suite and take a look at what you can see. Look at a few menus to see what they do. It doesn't matter which program you choose, or which platform you work on. Mac and Windows use software that looks and acts in a similar way and both include functions like these for you to explore:
A timeline where you build your movie. This looks like a strip of film along the bottom of your editing window.
The ability to trim and manipulate your video clips
Options to add text, filters, colour and/or music to your movie
Voice-over capacity, using your computer mike.
Options to upload finished movies to Vimeo and YouTube and others.
Editing, at its most basic, allows you to remove everything that gets in the way of telling your story.
Learning from teaching videos is a great idea. After watching a YouTube video or two you will feel more confident about making a start on your first video.
Your First Practice Video Edit
Import your clips using a USB cable, WiFi or from iPhones with AirDrop. Look at the clips you have downloaded. You will remember moments that worked. Start with those.
Add the shots that tell your story to your timeline then trim them so you have just the portion you want.
Aim to keep your clips short (around 3 seconds to start with) for a dynamic feel, but never be afraid to extend a shot if you feel it works for you.
As you edit, stay focused on your plan but remember this is a rough draft not perfection.
Keep editing, keep telling your story.
A video of under one minute is great for a first try.
You Made Your First Video Edits
Good for you. Give yourself a pat on the back and take a short break! Focus can be intense so a change of scene is important as a visual refresher. Then head back to your video to see if you want to do some more tweaking.
Is your movie story shaping up in a way you are happy with? If so, move on to the next stage.
If not, give your story plan a bit more thought. What might need adding in or taking out, shortening or lengthening.
If you are happy that it sticks to your plan and reflects your intentions get ready to add the final polish to make your video shine.
Editing takes time, good editing will a bit more time.
You are refining a message, keeping an eye on flow, the impact of a shot or sequence. You may replay your work in progress repeatedly as you aim for that sweet spot that says 'Yes, I nailed my message'. It took me a while to get this smartphone video editing right (OK two days!) It showcases our new fountain (not sponsored).
The Finishing Movie Touch
Before you upload your movie check my list of suggestions to add a touch of professional polish to your video. If you worry that you will miss something, as I often do, ask a trusted colleague to take a look.
Add a title to set viewers expectations. "This story is about" or "Meet xxx the mad kitten"
Adjust brightness or colour on a single clip if you think it looks a bit too dark or bright.
Limit the text on a clip. Not everyone reads quickly and you can always add a second clip.
If you struggle with an edit from one clip to the next consider adding a transition. A soft fade, or effect across the screen gives the mind a tiny visual break.
Think music. Do you need a royalty free soundtrack?
Video Editing Summary
Editing can be exhilarating, a lot of fun, and it can bring you a great sense of achievement. If you invest a small amount of time each week in studying video editing you will have a valuable skill under your belt. This will allow you to edit on the fly at events as well as create longer stories at home.
What will your first movie be about?
BONUS: Sponsored Movie Post Advice
This is important if any of your readers or your marketing is aimed at the United States of America.
You must add an FTC statement at the start of your video for a sponsored post. This disclaimer is a legal requirement in the US that you should see on every single blog or movie promoting a product where an item or service was provided to a writer/blogger for remuneration (payment).
All you need to do is add' Sponsored by' or "We are sponsored by" clearly at the start.
---
Video Making Resources
Music for Videos
Look for cheap music at sites like Audio Jungle
Royalty Free: Pixabay.
YouTube and Instagram have a royalty free library for users
AdWeek have a list of recommended sites here. Note: The site has several pop ups but the information on the post makes them worth navigating.
Video Planning
You can use our storyboard printables to help you plan, or good old pen and paper. If you love your smartphone note-taking app like Evernote get busy with that.
Video Editing Software
There are plenty of free and paid options for computer users. For smartphone fans I recommend trying a few apps before you start. What one person loves you might dislike because you don't like the user interface (where and how you tap) so check the App Store or Google Play and chose an app which works for you.
(f) = free and (p ) = paid.