If you are a true cat mom or cat dad your smartphone (or your camera data card) may be full of photographs of your cat! Are you like me though? You sometimes wish you could improve your photos just a little bit? If you do, let me introduce you to a fun way to express your creativity – Snapseed.
Snapseed is a photo editing app for your smartphone from Google. It is powerful and free and it is straightforward to use. The app has some high end features such as brush and healing tools, curves and monochrome adjustments. You can enhance your landscape, portrait and travel photography as well as capture for cats (and dogs).
What is Snapseed?
Snapseed is a free app that works on iPhone or Android smartphones. It was created by Nik Software and is now owned by Google. One thing that might surprise you is that it began as an iPad app and Snapseed was named iPad App of the Year in 2011. The software was later developed for iPhones and Android devices but, sadly, there is no Snapseed for Mac or PC desktops.
The app doesn't have the artistic tools associated with apps like Photoshop Camera, but it can be your go-to app for so many different quick fixes when you become familiar with it. I am sharing the basics here to introduce the app and I know you will enjoy exploring it once you see how it can help.
Snapseed does lots of things the average photo editing app does but it also uses something called 'non-destructive editing'. You can reverse decisions using 'undo' and Snapseed puts each instuction on a different layer. Imagine those layers looking like an onion.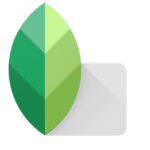 If you have any questions let me know in the comments, or by email I am happy to help.
How Do I Get Snapseed?
First you need to check the App Store or Google Play to download your Snapseed app.
Once you can see the green leaf on a white background on your smartphone screen – tap to open it.
You will first see a grey cross inside a circle. This is asking you how you want to open a photo.
Tap the cross for the option you need:

Open from Device (your smartphone photo album),
Open your Camera to take a photo. [Privacy Options may pop up for you to adjust],
Open latest image retrieves the last photo you took.
I have opened a photograph of Toulouse here and you will see a similar window on your 'phone. Under the image you will see three options.
Your cat photo will appear first of all in the LOOKS area. This section lets you make quick and easy transformations from bright and clear portrait to a moody monochrome. What you choose depends on your cat's mood, an idea, or your social media goals for the photo.
If you like what you see you press the small tick located on the bottom right-hand side of your screen and the image is saved.
You can use the Snapseed search bar to find specific effects and filters.
The Snapseed 'Looks' Options
There are ten options here. The first five options lighten your picture in subtle ways, and you might not appreciate the differences of 'Portrait' through 'Accentuate' unless you are looking for 'just' the right mood or impression you want to make with a photo. Then you will see how much it matters.
Fine Art through Silhouette offer different looks for a monochrome or black and white photograph. If you remember my smartphone photograph of our foster cat Sam? You can see how dramatic the lack of colour makes the image.
| | |
| --- | --- |
| Portrait | Smooth |
| Pop | Accentuate |
| Faded Glamour | Morning |
| Fine Art (black and white) | Push (black and white) |
| Structure (black and white) | Silhouette (black and white) |
The Tools Section in Snapseed
The middle option when you have a photo on your screen is the tools option. You can look at this as the 'engine room' of the app. Everything serious, subtle and adventurous is here.
The number of icons can look intimidating when you open it but don't panic. Take a few moments just to look. This is the best way to beat any sense of overwhelm. You might start to recognise some of the symbols from computer software on bigger screens. The familiar Crop tool is here, as is a White Balance icon.
I am including the (current) selections of the Tools menu. See how many you can recognise.
The Tune Options in the Tools Menu
I want to introduce you to the very useful Tune menu before you explore the rest of the program. It is the first icon you see when you open the Tools menu.
Tune lets you adjust lots of the things you look for in a good computer photo program:
Brightness
Contrast
Saturation
Ambience (contrast + saturation)
Highlights
Shadows
Warmth
Image auto-adjustment (the sparkling wand)
This might be the one place you will make the difference you want to your cat photos. Check it out in the screenshot below. You drag your finger up and down to choose what you want to change e.g. Brightness, or Contrast.
Find a filter
It is in the Tools area that you will find 'edgier' digital enhancements like Grunge, Drama and Vintage. These filters give you strong images with more extreme changes and I recommend you play around with these as you explore. There is a more sophisticated version of the black and white filter where you can adjust make a detailed range of tones, brightness and grain adjustments. This gives you a chance to make your monochrome cat photo a masterpiece.
You tap to select a filter then select from the previews along the bottom of the image, just like in the Looks menu. However, here you can also slide your finger across the screen to make even gentler changes. These adjustments are indicated by a narrow coloured bar along the very top of your screen. You can see this in the screenshot below.
Download this Snapseed How-To
Printable pdf
Next Steps With Your Snapseed App
I hope that you will feel confident about taking your first step with the Snapseed app. When you know your way around the app you can explore functions like these:
Crop
Lens blur (instant bokeh)
Rotate (straighten that window frame)
Expand (adds edges you suddenly realise you need)
Have you used Snapseed yet? Or do you have another app that you recommend?
---