Those of you who are kind enough to subscribe to Dash Kitten's newsletter (which you can do at the bottom of this post!) will have seen a preview of this portrait of Jack. He is a ginger and when I spoke about using camera RAW in the newsletter I was not sure how to show it effectively, so, of course, I had to go and tinker.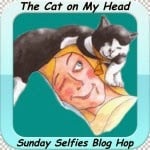 The result was this lovely portrait of Jack. It was originally a colour portrait and borderline overexposed (too bright) so by using the power of the RAW format I was able to darken the chest hair and enhance Jack's features so he had depth and character. His thoughtful face is framed by darkness so there is nothing to distract you from his portrait.
Jack's Monochrome Portrait
So you have something to judge it against, here is a smaller version of the original in colour. Do you prefer one or the other?
In Memoriam
One of our weekly pleasures with the Sunday Selfies is visiting the blogs we can't keep up with on a daily basis. This includes the delightful cats of Friends Furever and their lovely mum Sharon. So it was with sadness we heard of the loss of their beloved Raz.
Needles to say Ingrid and the Boys have created a truly exceptional tribute for Mom Sharon, which I include here, and Ann at Zoolatry has created two beautiful tributes that you can see on the blog post.