Have you looked at your camera settings and wondered what is white balance and it might mean to you and your cat photos? Is it important? Do you need to worry about white balance changes? Thankfully you will do absolutely fine with the automatic white balance [AWB] setting but let me introduce the adjustment you didn't really think you needed, and how it can help you stay in control of your photography as a beginner.
What Does White Balance Do?
Let me start with a simple definition of what white balance (WB) is and then show how it might improve your cat photos.
White balance is the process of recreating the colours of a photo so that it looks the way you see it with your own eyes.
Here's a thought. If you are taking a photo of a white cat inside, the cat might look fine to you. Your human eyes compensate for any strange tone that a tungsten or fluorescent light shows. Your camera will see the same picture without your human filters and when this happens your white cat may have an orange or even blue tint to it.
You can stop your cat's photo from having a strange tone without understanding the technical complexities of white balance changes. My demonstration model here is Anzu from my local cat cafe. Her first photo has a blue tint that makes the pictures look unpleasantly cold.
You can see the impact of white balance changes on the other photographs I look of her in this post including Cloudy, Daylight and AWB (Auto White Balance).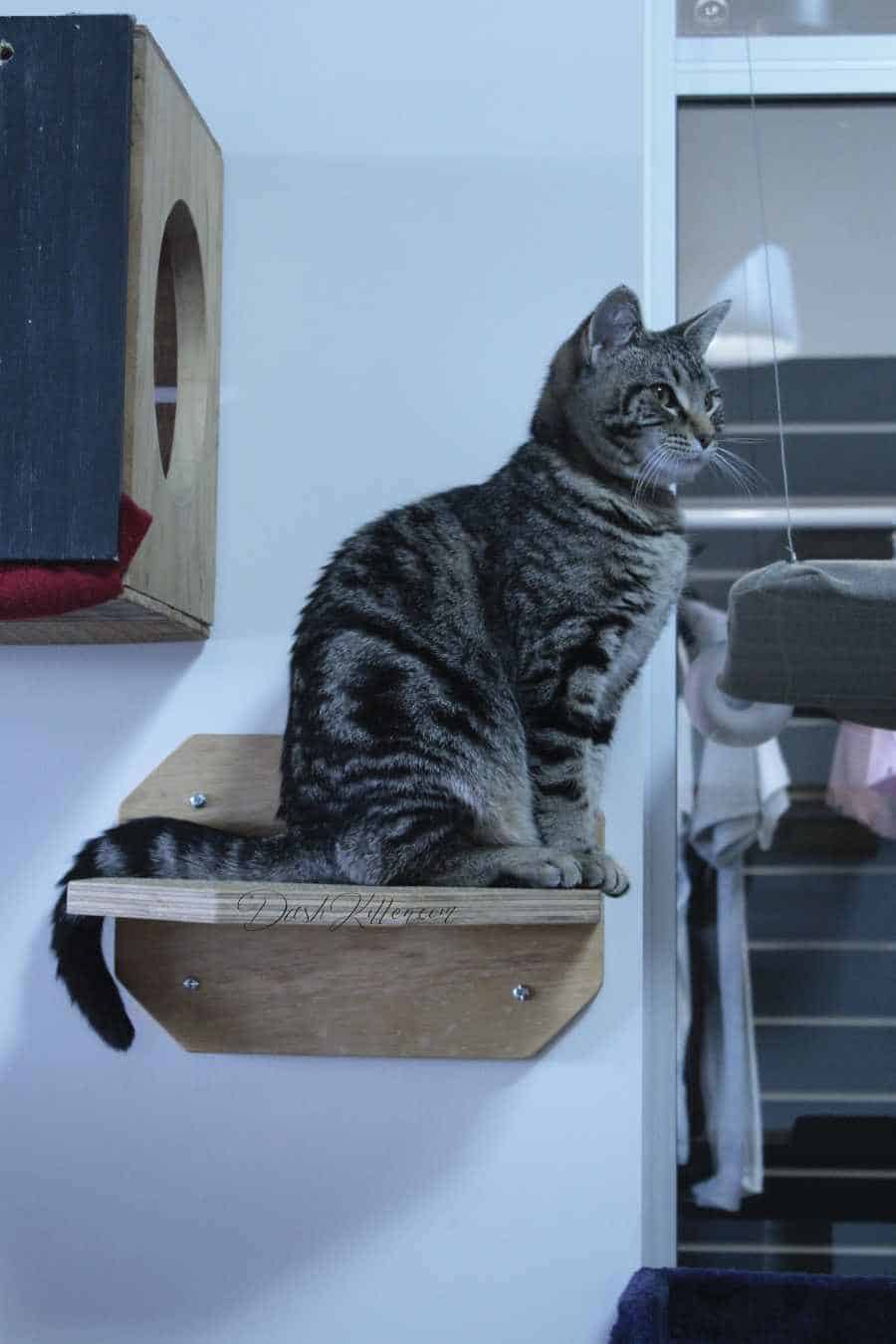 Are White Balance Presets useful?
The big plus is that white balance can take a lot of the stress out of judging your own photo's balance using something called 'presets'. They are especially useful when you are indoors.
Presets are adjustments already created by your camera's tech folk and added to your camera's settings. These adjustments give you a good chance of taking a better photo yourself with less pressure.
When they are used, presets automatically judge the lighting conditions and allow you to remove unfriendly tints or tones. It is worth trying them out if you check your viewfinder after a photo and don't like the results.
What White Balance Presets Look Like
Your camera might be slightly different but even smartphones and compacts are beginning to incorporate useful settings to make your pictures better.
You will have some or all of these settings:
AWB – your auto white balance setting. If you have no idea what to do, this is the place to start. Take your first photo of your at model. If you are not happy with the results you can explore other presets.
Tungsten – This looks like a small shining lightbulb (aka 'incandescent' light'). It is meant to be used indoors and 'cools' down colours in your photographs.
Fluorescent – This works well indoors when you need to compensate for the chilly blueness of fluorescent strip lights or lamps.
Sunny/Daylight – I am not 100% sure why you need this if you have AWB but my camera has it and I believe this allows your camera to adjust to a bright or sunny day better than auto white balance.
Cloudy/Shade – Clouds can cool down the ambience of your daylight and if this matters, you can use the setting to gently warm the image a little. Useful if you are not happy with a shot taken using 'daylight'. Worth experimenting if you are unhappy with AWB or your sunny setting.
Flash – Pet lovers do not use flash a lot, it startles an animal and the risk of red-eye or a zombie look means a pet can look unpleasant. Using a flashgun (rather than your built-in camera flash) is worth exploring if you need to do plenty of indoor work.
If your cat did turn blue under the auto white balance setting, try the Tungsten or Fluorescent settings to make a difference. The same might apply to a a cat white patches of white which turns blue under fluorescent lights.
Experiment using the settings and remember your success for next time.
Which White Balance Setting is Best for Me?
Camera confidence and using your camera regularly will help you learn whether you need to make white balance adjustments for the conditions you photograph your cats in.
If you are just starting out using AWB
Make expanding your skills with white balance a learning project. Make it fun, not a chore.
Use auto for every photograph you take inside, outside and under more challenging conditions like a shopping mall, evening bedroom or cloudy garden setting.
Review the results on your computer screen or tablet. Try not assess the results in your camera as the screen may be too small and subtle differences can be harder to see.
Ask yourself honestly, what worked? What didn't? Did the Westie or bunny turn blue or orange? What surprised you by working when you didn't expect it? Remember what worked for next time.
Where Do You find Your Camera's White Balance Settings
Each camera will be slightly different but a quick check through your computer manual (or a digital pdf) will help you locate the settings option you need.
Look for the letters WB as text or AWB as a small graphic or symbol. My white balance is on the back of my Canon 1300D camera. WB may also be adjustable through a camera menu as well.
If You Are a Confident Photographer
You will have several options including manual settings, white balance presets or using a grey card (which I am investigating). You can also use a light temperature meter (expensive).
A confident or intermediate photographer can also shoot in RAW. Does white balance matter when you shoot in RAW? No, because RAW is an uncompressed file format and you can adjust your settings in 'post-production' after you download the images to an editing program like Affinity Photo or Abode Lightroom.
The one disadvantage I discovered? If you shoot in RAW you do not have an accurate record of the light conditions at the time. If I forget I have nothing to refer to. So I try to shoot Raw+JPEG on my Canon so I have a record in the JPEG image.
NOTE: RAW images can be processed in software such as Affinity Photo or Adobe Lightroom. Check your software as it might/might not handle RAW files.
White Balance on Your Smartphone
Smartphones take good photos thanks to their internal auto white balance and I have taken some great cat photos simply by pointing my smartphone and letting it do the rest.
But, both Android and iPhone have various options that allow control beyond simply pointing and hoping. These are in the form of an 'app', rather than controls on your smartphone itself.
Many smartphone apps are very sophisticated. They allow white balance adjustment and shooting in RAW format. For the enthusiast this allows a lot more adjustment in 'post-production' but the files takes up more storage space.
BONUS: Although not White Balance, it is worth investigating to see if your new smartphone has Portrait mode. This introduces a 'bokeh' effect, the soft focus that makes portraits look so effective.
iPhone
Camera +2 Allows JPEG & RAW shooting and white balance changes. Highly regarded app. Budget $5.00 US.
Google Snapseed. Free
Lightroom CC Mobile – needs Lightroom (paid) or trial edition to download images to a computer. Shoots JPEG & RAW
Android
The Kelvin Scale for Photographers
Finally, you may come across something called the Kelvin scale when checking out photography sites online. Kelvin's are not essential for beginner's to know but the figures are fun to see.
The kelvin is a complex science-based measurement but can be utilised by photographers. It is fun to see how many K's mean how much in the real world. Check out my table for an idea of how many kelvin's make a lightbulb or a sunny day.
The kelvin is often used as a measure of the colour temperature of light sources.
Candlelight 1,000 – 2,000
Clear Sky 3,000 4,000
Flash 5,000 – 5,000
Cloudy Day 6,500 – 8,000
Lightbulb 2,500- 3,500
Fluorescent 4,000-5,000
Sunshine – 5,000 – 6,500
Shade 9,000 – 10,000
I hope this information is helpful. White balance is not hard to master and I know you will improve your pictures if you explore your settings just a little.
PHOTO RESOURCES
Bokeh
In photography, bokeh (/?bo?k?/ BOH-k? or /?bo?ke?/ BOH-kay; Japanese [boke]) is the aesthetic quality of the blur produced in out-of-focus parts of an image. Bokeh has also been defined as "the way the lens renders out-of-focus points of light". Differences in lens aberrations and aperture shape cause very different bokeh effects. Wikipedia