If you're a pet lover or a blogger looking to capture the best cat or dog videos you can, but you don't know where to start with pet video, let me help. I have compiled a selection of video tips and tricks to help you build your moviemaking confidence, in your own time and at your own pace. If you get stuck, please comment under the video, I am happy to help.
We are an official Amazon affiliate which costs you nothing but allows us to donate to our US rescue Place for Cats since Amazon Smile has been removed..
I am including my own videos that have been shot with a smartphone and edited in both iMovie (free) and Screenflow (paid) software to show you that video making is not intimidating. I know that if I can do it, you can too and have a lot of fun.
I have lots of tips to share so let's get started.
Whether you're shooting videos of cats or a product for a sponsor, this helpful advice is applicable to all aspiring pet movie-makers.
Starter Smartphone Movie Tips
Smartphone film making basics are easy to learn. I look at everything from the beginner's perspective because I was a beginner once and I love sharing the tips that will be short-cuts to your skill building journey.
To get better faster, adopt the attitude of a good film director from the start. Learn your smartphone's tools and make good use of them to crop, add captions, edit video clips and add suitable. After all even Stephen Spielberg had to start somewhere and I believe he would have loved making smartphone movies!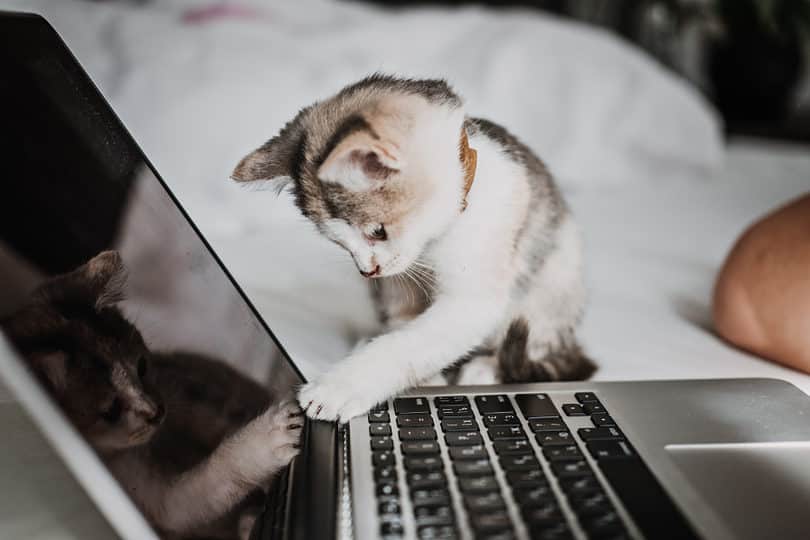 Be Patient as You Learn
The first and most important thing for your smartphone filmmaking kit is patience. A cat stalks its prey patiently, you study your smartphone apps in the same way. Research has shown that you can learn anything at any age and it takes the same amount of time. [Real science that, not senior cat wisdom!]
While you think kid's pick things up super fast, they aren't tech wizards. They simply apply themselves and work and work at it until they can use technology. Turn your smartphone on, find the movie-making app – and learn all you can.
Mobile movie making is something we can all do.
How to Make a Video On Your Phone
Even as a newbie you can achieve a high level of video excellence when you make a short movie with a smartphone. Smartphone video production is not scary, you just take it step by step! If you feel uncertain and want more security try a tripod like Joby. Their smartphone tripod is small and very portable.
Remember that when you start movie making, your first short films may be for your own pleasure, or sharing with family and friends. With a relaxed pet movie there is no pressure, just the pleasure of showing off your pet as you learn to frame shots, judge sound and keep your smartphone camera steady! You might want to show off a new kitten and make people laugh or showcase a foster to help with adoption.
This short video for Beloved Pet cat steps is the result of a bit of practice and cat fun. It combines stills and video clips from a smartphone which were planned in advance. I had an idea of what I wanted; a simple video showing our favourite cat stairs in action – with cat models. It is a supplement to a product post that was not sponsored the cats just love the steps.
How to Hold Smartphones for Video Recording
There should be a plenty of tips about holding your phone, its 'orientation' for different types of movie making. If you need a couple of examples, we shot our Duckling movie by holding our phone upright (portrait mode). We turned our smartphone horizontally (landscape mode) in our fun Tabcat movie!
TIP Many popular smartphone video recording apps including Instagram and Facebook allow you to hold your phone in the portrait position.
Unsteady Smartphone Clips
Everyone wobbles, so don't sweat the small stuff! It happens. What you can do is avoid too much distracting shake video with this simple idea.
Brace yourself against a wall,
A doorway, or
The back of a chair.
A little movement isn't so bad, it shows you are really there. Point your 'phone at your cat(s) and start practising. Don't let something small like worry about a wobble stop you from making cat movies, and you don't need a fancy smartphone outfit like influencers use! One suggestion I do have is a Joby Gorillapod. I am getting one for when I start presenting to camera, they are so versatile and lightweight.
20% Discount on full online catalogue Coupon: JOBY20WG
Good Light Makes For Good Video
Smartphones are called smart for a reason, the quality of your images will be great and with new improved 'phones the quality can be amazing. Practice shooting outside in natural light. If it's an indoor pet movie, try working inside near a window or on a bright day. Bright doesn't men sunshine, it means a diffused light you are comfortable in.
Many smartphones now have an exposure lock. Let's see how this can help. An iPhone or Android will automatically focus and check the exposure of your image. This is a big help for a quick still shot but when you are recording one person, or a pet it might make your clips look jerky so turn on the autofocus. Here's the iPhone how-to:
Lightly press your iPhone screen
The words AE/AF LOCK and a yellow square will appear (they remain on the screen)
Shoot your movie clips
Lightly press the screen again to clear the autofocus from the iPhone
ANDROID EXPOSURE LOCK: Tap on the area of the screen where you want to focus. This will cause the camera to adjust the focus and exposure to that point. Once you've got the focus and exposure set to your liking, press and hold the screen with your finger. This will lock the focus and exposure in place.

Quora Question
Sound in Your Smart Movie
To get clear and clean audio, even as a beginner, you need to either have the smartphone close enough to record your pet or person clearly or, invest in a portable microphone. You will find plenty of deals online, don't just look at Amazon.
A smartphone user who has busy stretches of time offered me a tip. If you don't want to be interrupted while you are shooting video see if you can turn of 'airplane mode'.
Aeroplane mode, aeroplane mode, flight mode, offline mode, or standalone mode is a setting available on many smartphones, portable computers, and other electronic devices that, when activated, suspends radio-frequency signal transmission by the device, thereby disabling Bluetooth, telephony, and Wi-Fi – Wikipedia
Editing On Your Smartphone
Take your time when you are learning to edit your movie. Words like cutting and trimming are used when people refer to smartphone movie editing as well as editing on a computer. I recommend downloading your first clips to a computer and editing using a larger screen although this is not essential. Use the software that comes with your computer like iMovie or the Windows equivalent and get the feel for editing..
If you are on the move and want to edit using your 'phone screen, take time to familiarise yourself with your smartphone's software functions and any limitations before you start working. It will take away a lot of the stress if you can create a short impression of a pet show or a cat doing agility trials using software you are familiar with.
Practice Video Skills
No one learns to drive a car in five minutes, and no-one becomes a good movie maker that quickly either. My best tip is to sit down with your smartphone (any type, any price bracket) and focus in getting to know what it does. Take a video of your cat's paw in closeup, learn to zoom in on whiskers, point your smartphone outside, inside, upside down. Shoot a cat in motion, or sit them beside a product you are doing a sponsored post for.
Practice = confidence, even for a novice movie maker.
Check my other video posts in the links at the bottom and boost your own video skills. Once you practice a little and learn a little, you will take bigger and bigger steps towards video confidence.
Video Skills For Pet Lovers – Top Tips Links
If you only have a smartphone, this is great for movie making. We used a combination of iPhone6 and GoPro for these videos! So check up on what skills you need and jump in pet people!
Popular videos that hit the spot may not be perfect but they have one thing in common, they tell a story. We need the basic storytelling skills and then we can fly. Read on to find out how.
As films shot on smartphones are a huge part of social media for personal stories and rescues, let us help you with that right now. Take it step by step with us. We hope we can encourage everyone who loves their own cats to make a movie and have some fun. Let's have some pocket movie fun!
How We Used Our Video Skills – Inspiration
Other video making skill builders: