This review of the Surefeed Cat Feeder is written by myself and by our senior cat Dusty. We loved the Surefeed Cat feeder so let us tell you what we think. Yes it is worth your money and time, let us tell you why.
A Feline Report on the SureFeed Cat Feeder
Let me set the scene for Dusty report. Dusty is asleep in a sun puddle as the story begins.
A little senior cat is enjoying a peaceful moment dreaming in the sun……
"Hmmm Sure Petcare feeder for cats eh? An automatic pet bowl they said….. Keeps my food fresh they said. Keeps it from getting dry they said…… * Dusty the senior cat drifts off to sleep…* Well, I can dream…… ZZZZZZzzzzzzzzz
"Dusty!"……..
I heard Mum call from her office. She called again…….. "DUSTY" I sat up and tried to pay attention.
"You don't eat all your food at once do you?" she asked. I admitted that sometimes, as a frail senior, I tend to forget my food is there, but I remember when I get hungry! It's difficult being a newly adopted rescue. I am still learning that I can eat what I want, when I want.
'I have been asked to review what looks like a very smart bowl that would keep your food moist, it's called the SureFeed. Would you like to try it?' My ears perked up. 'Would I? You bet I would'.
'Can I help write the review too?'
This post is sponsored by Sure Petcare and we received a complimentary 'Surefeed' for review. We only share news and products we feel are relevant to our readers because you matter to us. The opinions here are 100% our own and we are responsible for the content of this post.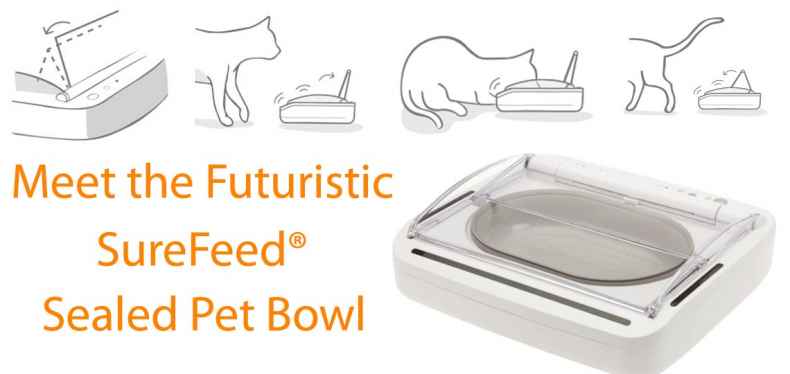 Dusty reviews the Surefeed Sealed Cat Feeder
There are lots of cat dishes and feeders but this must be one of the top pet products we have tried in our fur family. As an ecologically conscious family, we were impressed from the very start. The packaging is smart, sturdy and recyclable. The feeder was also very securely packed for its journey to our door. It is as good as the water fountain for cats we reviewed recently.
Setting up the bowl is super easy. No complicated fiddling and fussing. Just add the batteries underneath and you are ready to go. There is a comprehensive 'How To' manual, if you don't feel confident at any point, but wait? Why do you need a manual?
Dusty *grins* 'Let me tell you more'.
This is a high-quality pet bowl, an investment of your money and time, which is why the Training Mode impressed us so much.
Why we love this Sealed Cat Bowl
The Petcare feeder takes four 1.5v C size batteries. This makes it a solid and stable weight which is not easy to push across the floor. There are no cables to trip on or snag a claw on, or for kittens to chew. The batteries last about six months, depending on the frequency of use.
Sure Petcare, the award-winning makers of the SureFeed Microchip Cat Feeder, are everywhere on social media. So, if you need help you can find them! They also give back to local rescues in the UK. We love a company with a conscience!
The bowl base is a clean white and our fitted bowl (a grey one) sits snugly in the top. Because I can nudge food out of the bowl, mum found out quickly that the set up is easy to clean.
You can get bowls in a selection of colours. Check out some of the range available in our local Animates store (pictured above). Note:- the bowl is hand-washable only but its size means this is no hassle at all. You can also get divided bowls with two compartments.
The open and shut lid that keeps the food fresh is reassuringly quiet.
For those who prefer metal bowls, Sure Petcare has a recently developed set of metal bowls that fit the feeder. If they are not in stock, contact Sure Petcare on their social media channels.
What makes the Petcare Bowl a Top Feeder for us? It has a 'Manual'.
Wait, this comes with a manual?
Yes, and it is the most friendly and easy to read stuff you could hope to find. It covers all the questions you might have about the automatic feeder and its use including:
How the cat feeder works:
Fitting the batteries
What the buttons and lights do
How the sensors work
Where to place the bowl (important do's and don'ts here) and
An explanation of the Training Mode.
Why Do You Need a 'Training Mode' on a Cat Food Bowl?
This is a masterstroke by the developers of the feeder. How many of your humans will be saying 'Oh but I could never get my cat to use that'.
As a family, we think you would be very pleasantly surprised. We also know what your arguments might be, so let us explain one of the most impressive elements of the SureFeed.
Dusty's Report of the Surefeed Training Function
The hinged transparent lid slides up and down, triggered by sensors on the front and sides of the feeder. This movement would scare cats the most, right? Enter the 'Training Mode' which allows your human to set up a staged introduction. This is what Mum did with me, so we can say paw on heart, that this works.
Stage 1 – The lid stays open. This allowed me to get used to the shape, size and set up of the bowl. It is deep enough that even I could not push big amounts of food out.
Stage 2 – There is a small amount of movement in the lid as the sensors kick in. It's about an inch/2.5 cms or so. Just enough to introduce the idea of movement near the bowl. I took a few days to get used to this.
Stage 3 – More movement is introduced when I approach the feeder. The lid moves about halfway across. As soon as I approach the feeder the lid slides quietly back. It did not take me too long to stop being a bit surprised and simply tuck into my food.
Stage 4 – The lid closes fully between feeds, but it opens quietly when I approach the feeder.
This stage has taken a while for me to become familiar with. Mum believes slow and steady is the key to an introduction and believes we rushed this step. We decided to take a step backwards and try again. I am happier with the bowl this time.
Patience is Key with the SureFeed Cat Feeder
This is a high-quality pet bowl, an investment of your money and time, which is why the Training Mode impressed us so much.
At every stage in the manual you are told – be patient, do not rush. Allow your cat to become used to each stage of the bowl in their own time.
There is no rigid timetable – your cat is your guide – days, weeks or a month is the investment you make for a happy cat familiar with the bowl. You can set out for work, or a day's commitments, with a happy heart and a clear conscience.
Did I like it? Honestly? Yes. I am really happy with the bowl. Mum fills in the morning, and I can dip into the feeder during the day. It is washed and my food refreshed for my evening meal. It took me a while to get used to the feeder motion and sound, but then I'm a senior, albeit an active one. Mum and I worked as a team, learning the bowl's operation and sounds. If we can – you can too!
The Surefeed Microchip Feeder
Our review covered the basic feeder which is terrific, but what if your cat needs specialised food? A perscription diet, or weight-conscious, and your other cat wants to eat it too? You need more specialised help as a pet parent.
We would suggest you consider the microchip activated cat feeder from Surefeed. It is the best electronic cat feeder around today.
This feeder makes mealtime stress free in a multi-pet household as no other pet can access the feeder or its contents. This is seriously good and very effective. The Surefeed microchip pet feeder even has a back cover (available separately) to make sure other pets can't try to push in and get the food they should not have.
GREAT FOR PETS ON PRESCRIPTION DIETS: Holds 13.5 fl. oz, wet or dry pet food. The lid closes to form a seal with the neoprene lip, helping to retain moisture and to keep food fresh.

Amazon
This feeder needs your cat to be either microchipped or wearing an RFID tag. One is provided with each feeder but if it gets lost, replacements are available here.
The microchip controlled cat feeder means you can even have more than one cat on a specialised diet too.
Each feeder comes with one RFID tag so if you have two indoor cats, or have not yet 'chipped your pets (please do so if you can) the tag will give sole access to one feeder.
Added bonus for the 'chip feeder. It means you will not spend more than you need to on prescription feed because every ate it and you had to buy more. Now that is a good thing.
Surefeed Pet Feeder Summary
We use our feeder every day and it is easy to care for and clean. All of the Surefeed products are solid and long-lasting when treated with the care due to a quality product. Replacement bowls are available and there is also a stainless steel bowl which will be available soon (please check for availability).
The microchip feeder takes a huge weight off the mind of any pet parent watching their cat's diet or concerned about other cats getting the specialised food. I recommend the feeders above any other we have tried for our cats.