This week's short post is a super tip! How to empower your cats and create pawsome portraits. It is is inspired by our friend Brian and his sister Dolly's selfie. In her portrait, the camera is pointing upwards at Dolly's face and she looks spectacularly fluffy and gracious.
Dolly's portrait reminded me of something my online photography course tutor said:
Looking up at a portrait subject empowers them, pointing your camera down at your subject diminishes them.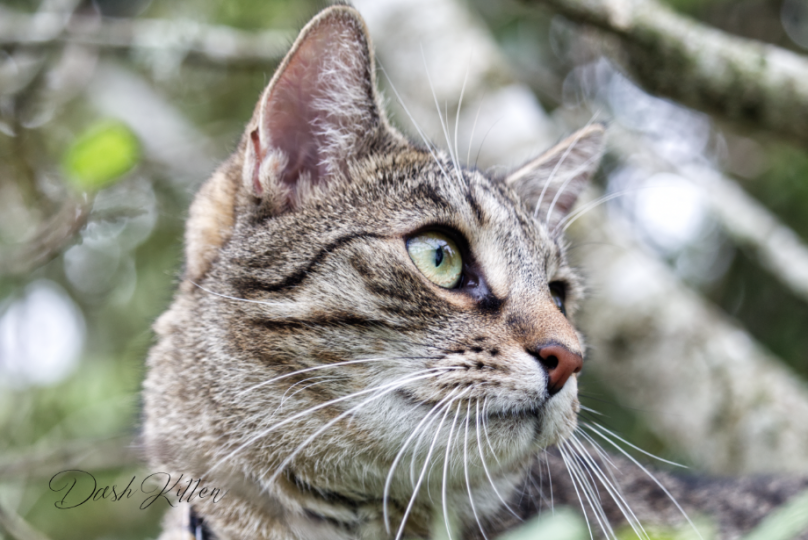 Looking Upwards at Your Cat
With Dolly's portrait in mind, I thought I would try to take an upwards portrait myself by pointing the camera towards this week's subject – Toulouse.
I had to zoom in and make as effort to consciously tilt my camera upwards, not just move it a little bit. Toulouse is lit by bright ambient natural light so I did not have to worry about dark shadows and I was pleased that I managed to focus on his eye and capture a lot of detail.
The photograph was processed as a RAW image in Affinity Photo. This allowed me to make some adjustments to his fur, after that a little lightening and his portrait was ready for the world to see. What do you think? I bet you could capture something similar with your cat. Try looking up at a sofa arm or a window ledge.
Cat Looking Downwards At Camera
I wanted to show a second, slightly more dramatic shot of a cat face, to show you what you can do.
This is Tiny from the local cat cafe Neko Ngeru, who are relocating in Lower Hutt. Because of the angle of the shot Tiny looks more like a giant than a petite tabby cat. But, her eyes are in focus and with some gentle cropping at either side, her pretty face fills the frame and her eyes are sharp.
---
Other Useful Photo Posts to Check Out!