You might remember our new arrival, Sam who I reported on last week. This week I want to share his foster portraits which I hope will encourage every foster who works with adult cats to record special moments on your own foster cat's journey. All you need is your own smartphone or a basic DSLR.
Take a look at the first photograph. It says a lot about Sam and his journey. The image shows Sam enjoying a stroke while he laid on the window bed in his foster room. It shows him in transition to a forever home, relaxed and confident he is in safe place. Sam's neck fur may still be straggly and shaved from his vet visit and the application of healing ointment but he is enjoying some quiet time before his meet and greet with his potential forever home people.
This confidence with your own foster means you can get close and take lovely photos.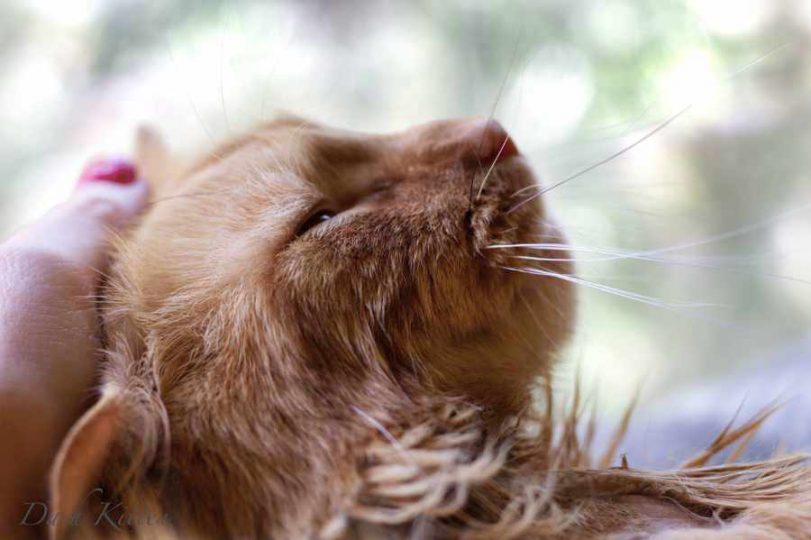 Foster Portrait Tip
Introduce your foster with a shot focusing on their eyes and get people to enter their world as they transform from stray to safe.
Your screen or viewfinder may have marks to guide your focusing, so check your manual for information about 'setting focus points'. Sam's eye area is as sharp as I could get and there is a 'catch light' that gives the whole photo warmth and life. I aimed my focus point at Sam's eye and took the shot. Yes, it's one of several, and this one worked.
If you aim to take a shot like this yourself, remember that people automatically look at the eye when they view a portrait. Keep the eye in focus as much as you can and potential adopters will forgive you a lot.
NOTE: A catch light is a light source that causes a highlight in a subject's eye in an image.They are also referred to as eye lights. The technique helps to draw attention towards the subject's eyes.

Wikipedia
Be Ready for Special Cat Moment
What do you do when faced with a fabulous photo opportunity and you are totally unprepared. No DSLR, not even a compact camera nearby? Should you panic? No, you reach for the smartphone in your pocket. That iOS or Android can take a superb cat photo that might get your foster cat adopted.
Like you, I have to remind myself that I am not doing a professional photoshoot, it's just me and the foster cat. And, if I can grab my smartphone to take a good photo in three seconds, so can you. Let me tell you the story behind this successful photo.
Capturing The Moment
Sam, our foster has been allowed to explore the house and interact with the home cats on supervised visits. Of course, I was looking for a photo opportunity as he is a beautiful boy and the camera loves him. I need some shots for his adoption portfolio.
Like many cats, Sam loves looking out the windows, although I don't think he wants to go outside. Some cats do, but he has been content to watch. It was during one of these explorations that he hopped up onto the bed and into the perfect photo opportunity.
You guessed it. Sam was between me and my DSLR. What would you do? My first thought was '"Help my DSLR out of reach how can I take a photo of this gorgeous cat moment"? Then I felt my smartphone in my pocket so I slipped it and held my breath hoping he wouldn't do the 'cat thing' and jump away at precisely the wrong moment.
I managed to take several pictures before he turned away, jumped down and the moment was gone.
I learned an important personal lesson in these moments. We build our skills over time and I recognised the potential for a good photograph in that brief moment.

Turn Your Cat Photo Into A Black and White Masterpiece
The picture looks lovely in colour, check out the cheeky outtake below! But, I know you will agree it is transformed when I adjust it with one of my iPhone photo apps to black and white (often called monochrome). You can see how the light on Sam and the fabric beside him forms a soft triangle of light topped by his sharp focused gaze.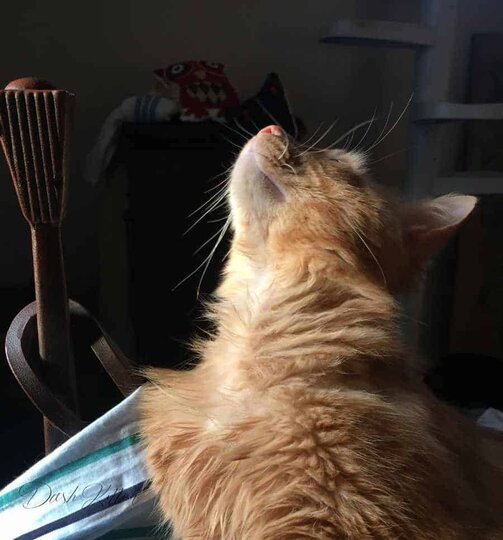 I love black and white and have explored it in a black and white photo tips post. You can check out the details you need to focus on to take your own black and white images.
Have you been inspired to take a photo that might get your own foster adopted? Try one today and let me know how it turns out.
---
Check These Cat Photograph Resources