My post about using your smartphone with confidence went down well and I have been exploring another element of the iPhone I want to share. I know your smartphone will have similar settings and this is worth a look. It's a lot of fun too so let me introduce Portrait mode.
Portrait Mode Can Be A Surprise
Check out this lovely portrait of Jack our ginger senior. He is characterful, gentle and loves to sleep the day away on our bed with a short trip into the garden for some fresh air as evening falls. I did not think I would have much success capturing his grumpy charm but I turned on Portrait mode and gave it a try.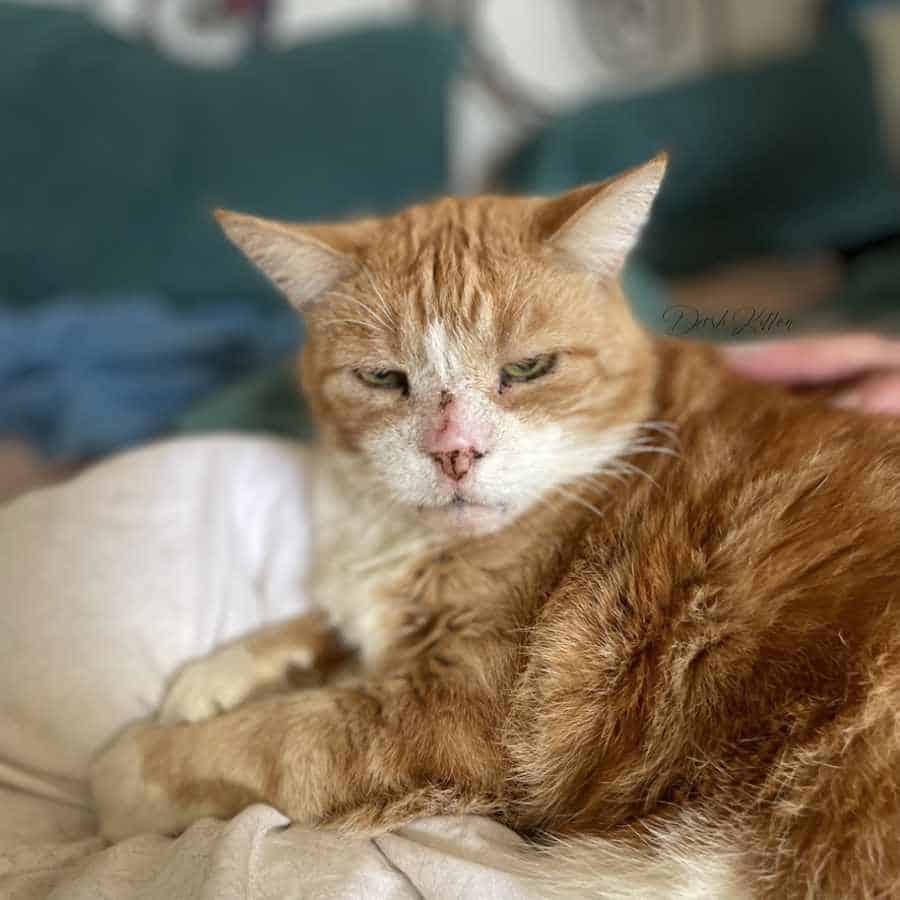 Most smartphone cameras have a variety of options when you open the camera to shoot. As most incorporate the ability to shoot video.
Your own smartphone portrait mode will have a variety of options for you to explore. I suggest you start with the first, standard portrait setting using Natural Light. The camera will assess how far away you need to be, so slowly move your 'phone until the soft focus framing kicks in, then take your photo.
Cat Portraits With Your Smartphone
When you select portrait mode you will see different options. Each one is worth a look as it might help your photograph look better. To see the effect on your smartphone photo gently drag or tap the symbols (which you use depends on your phone).
Most of the selfies today were taken with natural light but here's a list of the options on my own iPhone 12. Yours will be similar, or even better!
iPhone Smartphone Portrait Options
Natural Light
Studio Light
Contour Light
Stage Light
StageLight (mono – B&W)
High Key Light (Mono)
'Natural Light' works for most cat portraits, even when the light is not perfect. If you are not completely satisfied, try Studio and Contour as these change your settings in small ways. The 'Stage Light' option that is part of the Portrit selection adds a sweep of total drama.
Believe it or not, the dramatic inky cloak of darkness that surrounds Toulouse was added by the smartphone. All I did was adjust the controls by adjusting them to the Stage Light option. The photos were taken at the same time as the daylight ones.
Let me show you how some silly moments with portrait mode created cat photos that got the attention of the company where we got Toulouse his own Christmas pencil!
The photos were all taken during the morning when Toulouse came up for his usual cuddle. He has supervised playtime with his own pencil (never on his own) while his dad reads or does a crossword.
There are different option apart from Natural Light, such as Studio Light and Stage Light which have dfferent effects. They might seem scary but I hope to explore them with you and my favourite cat models over the coming months! 
Because I usually use my DSLR to get the lovely soft focus bokeh effect in my cat photos, it has taken me far too long to use my smartphone portrait mode for the same effect. I want to encourage you all to experiment with Portrait mode because I have been catching up!
I Don't Have Enough Hands to Turn On Portrait Mode
If you don't have time, or enough hands to switch to Portrait mode – you can still succeed with a great smartphone kitty portrait. Check these photos of Toulouse.
As many readers know he is a rescue cat from Neko Ngeru Cat Cafe. Like every rescue he has made himself at home over the past year or so and has been the perfect model. As Ernie from Island Cats as suggested, he has become a muse, inspiring more and better photos from me including these candid cat snaps that tell a story.
All of these photographs are smartphone snaps. They capture a quiet moment as I was reading in bed. Suddenly a tabby decided he wanted to cuddle up so he wedged himself between Paul and myself and fell asleep. This had not happened before so it was a step forward for our youngest family member.
Sure, this made reading a bit more difficult but as my iPhone was nearby I grabbed it and took a few candid shots. I knew they would not be perfect but they show a nice moment I want to remember. I thought he looked sweet enough but when Toulouse looked up at the camera definitely a cute moment.
Yes, it was low light and I knew I would have to use some digital enhancement to see how well the photo had turned out but it worked out fine with a little help from Photoshop Camera which I love.
Candid Cat Snaps AI Magic!
Simply loading the photo into the app started the AI (artificial intelligence) mode which immediately sharpened the photo. I added a little more light and here you have it. One super cute candid cat photo.
Here's one of the original photos that shows the low light available at the time.
Your smartphone is something you often have with you so never be afraid to use it to take photos for your blog or social media.
The quality of smartphones right now is so impressive you could probably win competitions with them. It's the camera you have with you most often so use it, seize the moment and capture a memory you can print off later. Try to compose your photo, but remember you can always edit later if you need to.
A Surprising Close-up & How I Treated It
This closeup tabby portrait was taken during a week of some of the heaviest rain and extreme weather that New Zealand has endured in recent years.
You can get an idea of the weather's impact here. New Zealand gets as rainy and wet as every other part of the world but this is sudden and extreme.
Toulouse managed a nice eye level post for my DSLR although I did have to lighten his face a little bit.
The cats are all currently hiding under duvets, in cupboards and in front of heaters and enjoying the view outside from the warmth inside. The bad weather looks set to stay until next Thursday!
To cheer everyone up, Toulouse insisted on a colourful version of his portrait adjusted with Photoshop Camera.
---
Smartphone How-To Resources