Today's how to was a totally unexpected capture although it looks as if it was carefully composed and took so long to set up. The photograph shows a dramatic soft light, (carefully placed for dramatic effect) and a single cat surrounded by deep shade. I can hear your questions now. Didn't it take an age to set up? How fancy is your lighting setup, it must have cost a lot of money?
Dramatic Cat Capture Revealed
The truth is I ended up with an awesome cat selfie using my new smartphone and a single lamp. The lesson I want to share is be prepared to take photographs in any kind of light, not just the light your camera tells you is the right kind.
Here the light was the only one left on in the living room before the family went to bed. Toulouse the tabby cat jumped up on to his favourite perch which is a mushroom shape at the top of the living room cat tree. I just HAD to try and grab the shot, wouldn't you?!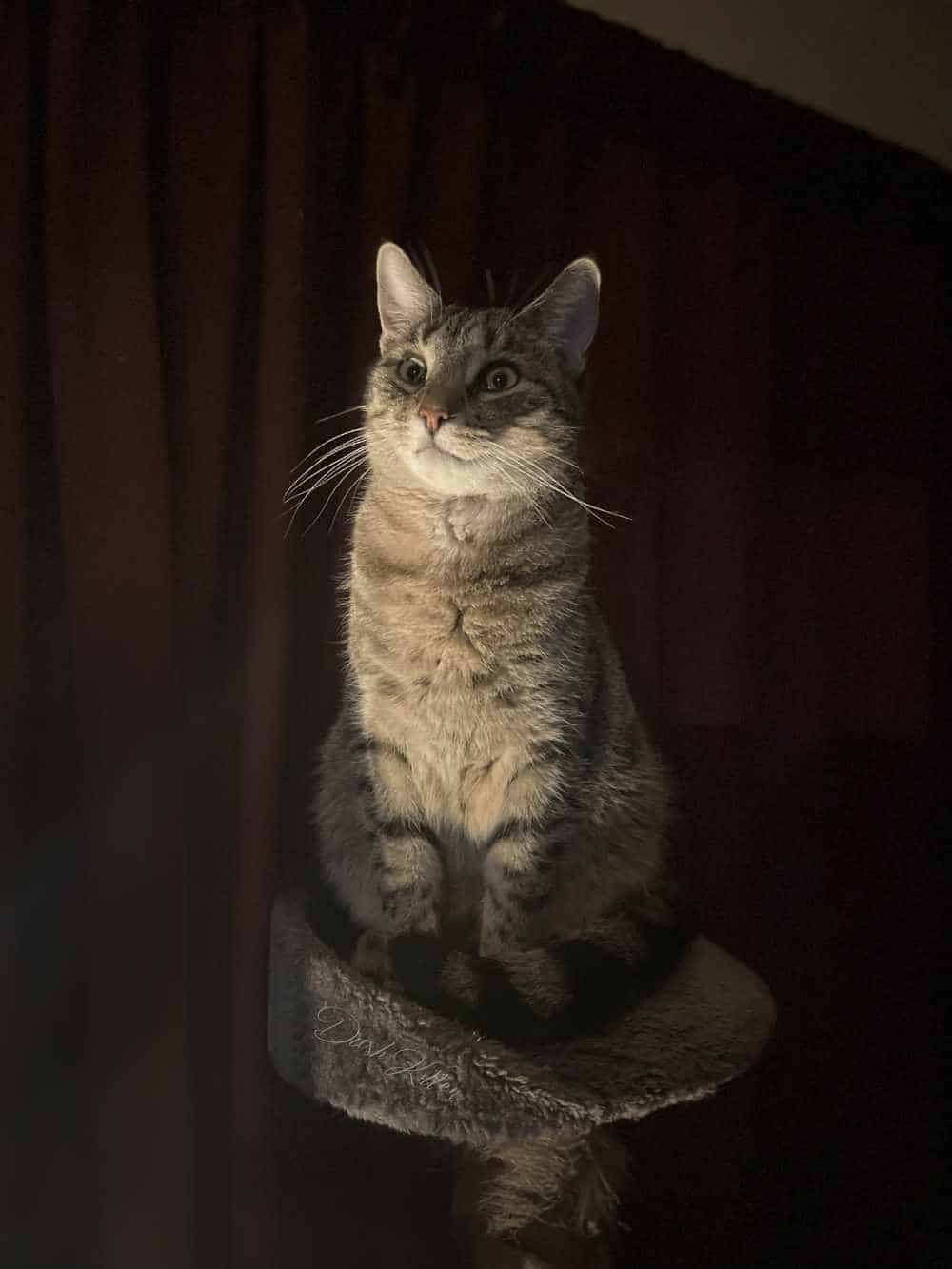 The smartphone was looking for light and found it on Toulouse.
How I Did It
I turned my iPhone12 to Portrait mode and left it there. I did not have time to add any fancy effects.
I made sure my subject, Toulouse, was as central as I could get in the 'phone window.
I took a dozen photos really quickly. (You might use burst mode).
TIP If you try this kind of shot remember to make sure (if you can) that your background is reasonably plain and uncluttered.
To show you how effective this kind of photography can be, I took a couple of photos of the shabby chic cat tree the following morning. You can see how I managed such a great shot. The tree is nearly 2 metres (6 ft) tall and the photo perch Toulouse perched on is the high mushroom shape. As you can see, we have had this tree a long time and Toulouse is the first cat ever to use the top spot on a regular basis.
With the curtain drawn there was no reflection from a window and the lamp is about a meter (1 yard) down on your left hand side on the breakfast bar as you look towards the cat tree and the window.
Take A Chance On The Light
My top tip is to try anything and everything with your smartphone.
You have nothing to loose and everything to gain by being fearless with your photos when the light is less than perfect. Try out shots in the half-light, or even moonlight. You will find yourself amazed at how fantastic the results can be. If they work let me know, I'd love to see them!
---
Related Posts: