Shutter speed is an important aspect of photography that can make a big difference to your cat photo. This super quick read and video give you an understanding about what shutter speed is and how your DSLR shutter works to give you great cat photos. Shutter speed is part of the important Exposure Triangle with Aperture and ISO.
What Does Shutter Speed Do?
Shutter speed determines how long your camera's shutter stays open and the two photos below show you the difference between fast and slow shutter speeds when I tried to capture cat movement.
How fast the shutter operates affects the amount of light that enters into the lens and this affects how your camera captures your cat as it moves. My mini video shows you what happens to your shutter and the settings to experiment with. I am also including a helpful quote from Photography Life that describes how shutter speed is measured.
Shutter speeds are typically measured in fractions of a second when they are under a second. For example, 1/4 means a quarter of a second, while 1/250 means one-two-hundred-and-fiftieth of a second (or four milliseconds).

Photography Life
What Happens When Your Shutter Speed is Wrong?
When I began to take photos I had no idea what a difference the speed of my shutter could make and I got it wrong a lot of the time but, like you, I kept going and I keep learning. I admit that I took a lot of artfully blurry photos that might have been cats!
Now, as I gain more experience I do a lot better and even win prizes! If I can do this, so can you. We do not need to be perfect, just more in control. You learn that small adjustments to your shutter speed, balanced with your ISO make a difference. Let me emonstrate for you with two examples. One failure and one successful photo.
Shutter speed fail
To set the scene. It was a warm summer afternoon and the Dash Kitten crew were ready to play like mad things with a Neko Fly wand gifted by our friend Erin the Cat Princess. I took the opportunity to try my action photo skills and improve my shutter speed experience (you know how I always say practice, practice and more practice!)
My first attempts included this photo. Nothing is in focus, everyone is moving so fast – what a disaster! Silver (the pale tabby) flies off after the toy leaving Toulouse far behind. 1/250 is the shutter speed and f4.5 the aperture setting. As you can see I misjudged the shot completely!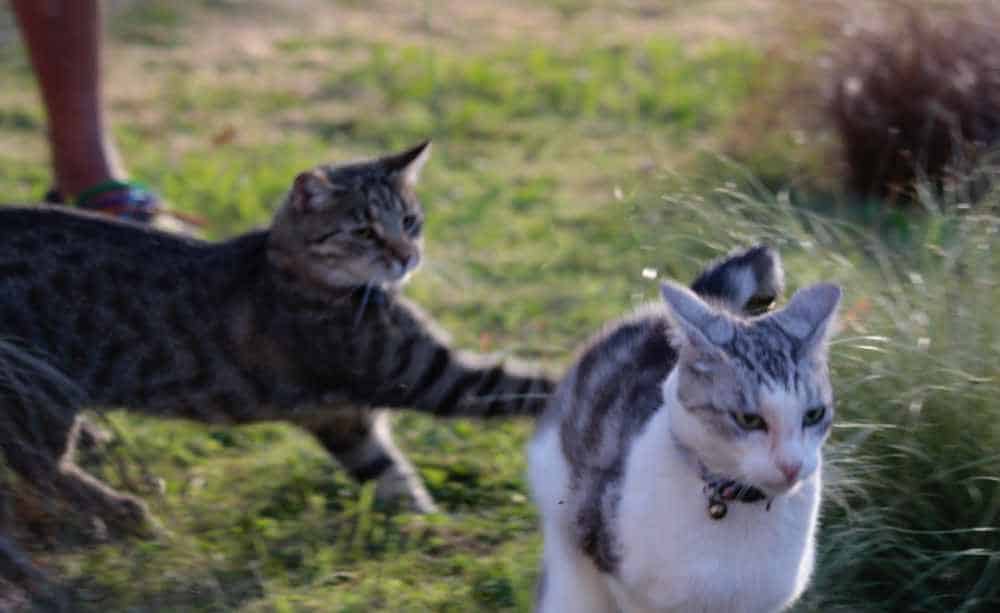 Shutter Speed Success
Toulouse in a dramatic solo roll. You might be able to see the blur of the butterfly toy close to the camera. I focused on the top of his body with my camera's focus point on his chest. The settings were balanced differently this time. 1/125 is the shutter speed and f8 the aperture setting. A wider aperture matched with a slower shutter speed.
The spectacular shot worked because the camera did not have to work so hard. More light was being allowed in (remember in the video at the start of this post?) so the shutter speed did not need to be as fast. This is why you get better with practice and feel more in control of your camera.
Shutter Speed and Aperture form part of the Exposure Triangle (with ISO) and there is a great explanation of how these work together on the Photography Life blog. I wanted to focus on understanding shutter speed at its most basic level for this post.
Photography Definitions
---