As part of May's National Photography Month I created a fun cat photo tips infographic for beginner or nervous photographers. I find myself thinking about these simple ideas whenever I lose focus.
Sometimes I take terrible photos and they all end up in the digital rubbish bin so I have to take a breath, just like all of you, and try again. If you can't see the whole infographic please let me know. I have made it into a download at the bottom of the post, if you would like a copy.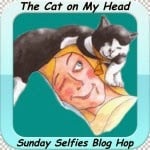 It's useful to remind ourselves that just doing one thing differently can transform cat photos into amazing photos we can be proud of.
Here's the infographic list in text form as I know some people will find it helpful:
Focus on your cat's eye(s). If one eye is closer to you, focus on that one for best results.
Try a new angle. Look up further than you might usually, get down lower than you might usually!
Use Burst (smartphone) or Continuous (lots of shots) so your camera is prepared to keep shooting. Note do not use RAW with Continuous mode tas he camera cannot process the huge amounts of data fast enough and will stop taking photos.
Be Patient. You know your cat and when is the best time to take photos. This doesn't mean you can't sneak in a surprise shot when your model doesn't expect it. Needless to say there is usually a modelling fee involved……
Toulouse demonstrates No. 2. I am looking up at him from about a meter (3 feet) below.
You are welcome to download
a FREE copy of the Infographic