I believe that the Petcube Play is the best and most stylish pet webcam on the market today. The original Classic model was a huge success and it was quickly followed by a range of developments in smart styling and impressive functionality. After reading my assessment, I know the Petcube will fit comfortably into your lifestyle whether as a quiet observer in the corner of a foster cat's cage, or as a bird's eye view of your lounge or catio.
Let me tell you why I love the Petcube, and why you will be impressed too.
Dash Kitten received a complimentary Petcube Play for review. My blog only shares news and products I feel are relevant to oumyr readers because you matter to us. The opinions here are 100% my own and I am responsible for the content of this post and the affiliate links included.
PetCube Play Preview at Dash Kitten
Petcube Update 2023
I am excited to bring you this extensive review of the most stylish, modern and easy to use pet cam on the market as well as an update on the most recent launch of the Petcube Bites 2 and the budget friendly Petcube 'Cam'.
Petcube Play 2, Bites 2, Petcube Cam
Petcube now have three contemporary pet webcams and there will definitely be one that appeals to you. The lifestyle look of the Petcube Play 2 fits in every living room, the Petcube Bites 2 is ready to dispense treats, and the small Cam will fit in smaller spaces or cover your whole room if you need it to.
The Petcube camera setup is easy and once up and running you have access to the CARE options I list below, if you need them.
NEW – Built in Alexa
NEW – Voice Control
NEW – Intelligent movement detection
NEW Styling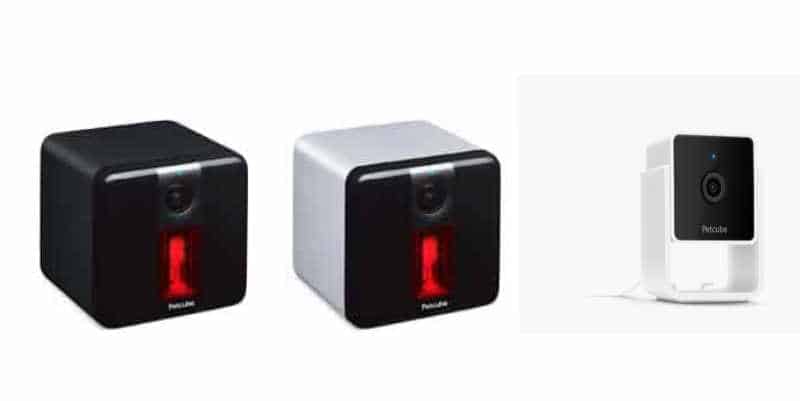 Even the budget level petite Petcube Cam has 1080 full HD 2-way audit and live video streaming with a one year warranty, for $29.99. For $5.99 per month you can purchase the Petcube Care Bundle which includes three days of video history, smart alerts and the ability to save your videos to a gallery.
The Petcube Play is a fun and useful pet surveillance camera for every pet parent! It allows you to keep an eye on your cat or dog, and to communicate by voice if they need reassurance or interaction. This happens through your 'phone while you are away. Even if you are somewhere else in your home, it's fun to check the Petcube wifi camera. You can read about the app further down this post.
"Is the Petcube Play Bigger? Better?" The Play is lighter and more compact than the classic Petcube home camera, as you can see from the comparison picture. It continues the development of stylish design and product enhancement begun by its bigger sibling. It's a compact powerhouse of pet monitor technology and you access it by using the Petcube App on your own smartphone.
The camera stands a mere 7.5 cms square or 3x3x3 inches and comes with a generous 2.7 metres (9 feet) of cable, allowing you to position the Play at different heights.
"What Can The Petcube Play Do?"
This was the big question from our readers. Let's me give you a rundown of the camera highlights:
The Play streams video at 1080p High Definition video. A bit too technical? Try this to get a better idea. The BBC, EBU and all major USA channels use HD at 1080, as does your Blu-ray player. It's that good. It also looks great on your smartphone.
There is a fun laser for you to use when playing with your pet. The laser is certified safe for pets and human use. We have used the laser as a great toy when visiting other Play-mates around the world and feel happy using it on our own Petcube.
There is clear two-way audio between you and your pet. You can chat on the pet cam from anywhere, although Mum does shut up sometimes!
Sound and Motion Alerts This a big reason many people buy a pet monitor. The 'Alert' setting triggers a notification to you when there is movement or sound. This is useful if you have a pet you need to keep an eye on – a senior, or a nursing mom, foster kittens or a puppy in a crate. Settings for this are easy to adjust (even for my paws).
FUN TIP You can now add a bio for each of your fur family. The Dash Kitten Crew aim to squeeze as many of us on as we can! Let people know who your pets are, it gives them a reason to get in touch with a fellow cat lover.
Petcube Play changes and adjustments are made in the easy to find 'Camera Settings' section of the Petcube easy to use app (see our picture). There have been multiple upgrades to the smartphone interface and app for the Petcube. This home camera consistently on top of the pet monitor game which is impressive and reassuring.
Special Features of the Petcube
There are some cool special pet cam features that you really need to know about. They take pet monitoring devices to a whole new level!
The Night Vision Camera. This is the major update for many cat camera fans, and it is the most fun ever! Not only does it allow you to see your pets during the day, but you can also keep an eye on them out when they are active during the night. How busy are your cats at night? You may be surprised.
Every user get 4 hours of free CARE video history time. The video is set to record by two simple triggers, movement or sound. For the free video it records for four hours, then starts again! You have the ability to download and save video segments to show friends. Your settings are simple to adjust for auto recording, and you can also stop your CARE recording by setting it to 'sleep' at any time.
FUN TIP Night vision makes your house look really different! Check out our daytime curtains, and the night-time version! Mum wishes we really had white curtains!
CARE Expansion Packs
You also have the option to buy more Cloud time, if you need it. Again, for specific purposes, this can be very helpful e.g. if you are monitoring a sick pet, noting how often a pet moves, observing a sick kitten or nursing mom. We chose the three-day option and this works for us.
Petcube Care : Live video streaming; 3 days worth of video history, 30 second video clips, 'smart' alerts and more. Choose Optimal or Premium level.
Vet Chat: Live online vet chat $23US approx.
The Petcube Community
We need to mention one thing we really like that the publicity doesn't spotlight – the growing community of Petcube members. You can see pictures other users have posted, and comment on them via the Petcube app on your smartphone. This is one of the real treats of the Petcube community, as cat cafes, ordinary people, rescues, and vet hospitals all have Petcubes, allowing you a glimpse into another pet world to your own.
Can Anything Go Wrong with My Petcube?
Faults and errors are unlikely but Petcube says they are ready and waiting to help. Email them, or you can ring them up. They have worldwide contact points. From our experience for this review, things like moving, resetting the Petcube, or plugging it into different outlets might upset it for a while, but it should settle down.
NOTE: Many issues may come down to one thing signal strength, as well as setting up your pet monitor correctly and with care. This is not hard but everyone makes a mistake sometimes, so just retrace your steps and try again if the Petcube isn't working.
The Petcube App
The plus points are mounting in the Petcube's favour – right? To the list I can add the pet monitor phone app. This is simple to use and works on my iPhone (iOS 8.0 or higher), as well as my other Android (4.0 or higher). The app actually works on an older iPhone 4S too so I think it will function most recent smartphones. If you habe any doubts, Petcube can help.
The camera is clear and picks up lots of detail. It is easy to set up and you remain in total control at all times.
As pet monitor apps go this one is clean, simple and easy to navigate. The app works best with a good signal on your phone – which is fair enough as you are using a mobile telephone, an app and a wifi network.
Original Review of the 2016 Petcube Begins Here
You can compare the older (2016) version with its modern counterpart, I first met the Petcube Camera and their Senior Marketing Manager, Rachel Youens, at BlogPaws® in June 2016, and I was impressed.
I welcomed the chance to review this fun piece of pet tech equipment. Sure, there are plenty of pet cameras on the market, but they are of variable quality and none, I believe, matches the Petcube's functionality, ease of use, and stylish design.
Petcube Connecting Pets & Parents
Here at Dash Kitten I tested the classic 720p Video model, which has 2-Way Audio, a built-in laser toy and is available in three colours; matt silver, rose-pink or black. We can tell you that we love it, and it's a lot of fun!
Webcam Location
It took me a little time to find the best spot for our interactive cat camera. On our visits to the Petcube community, we have seen a variety of 'locations'. Living rooms, workrooms, rescues, cat cafes, and rooms specifically set up as a family pet room.
We have set up our Petcube where it gets plenty of natural light, and the location balances privacy for the humans with a view of the cat flap for monitoring family activity. We tried the hall but, aside from the good length, we found the lighting was poor. In its current location, the camera is popular. The Petcube is busy with lots of visits coming to DashKitten's camera in New Zealand during 'opening hours'.
Let us give you a quick rundown of the best pet video camera on the market from the point of view of a constantly fussing Mum and her fur family.
The camera is good quality and has a spacious wide-angle lens of 138 degrees. So, no wishing you could move the camera, just – a – bit…
The camera has two-way audio so you can chat with your pet.
It has non slip feet and a chew proof cord!
The Petcube has a controllable 5mW laser beam. The laser is safe, but, respect the product and what lasers can do OK?
Your smartphone can take photographs or video footage of your pet in action for you to show off.
A lighter signal might cause a bit of frustration if, like us, you live near a hill, but, once we situated our PetCube where it picked up a clear signal things began to really rock, and we mean rock. The Petcube stood firmly on its perch during our recent 7.8 earthquakes the Dash Kitten crew felt in late November 2016. Those non-slip feet work very well.
What does the Petcube App do?
The App allows you to set up sound and motion notifications, so you can monitor pet movement.
Let's you schedule some playtime so your cat or pup doesn't get too bored.
The app is easy to use and set up on your smartphone. If we can do it you can too.
You keep full control of who has access to the Petcube at all times, and when they can view your cats or pups.
There are three sharing options for your Pecube. Family – always available exclusively to your family members, Friends – for whom you set opening times, they can play with your pet and talk to them (if you wish) and Public which is available to all – you set the times and settings for the camera's time online – for public these can be more restricted.
Can They Make The Best Pet Camera Even Better?
Yes they can.
Petcube Care was recently introduced. Petcube owners get 4 free hours of recording time, with an optional paid subscription service that allows you to store 10 or 30 days of video history in the cloud. Comprehensive details of Petcube Care can be found here.
Research and development is progressing as such a speed that while we were assessing the Petcube 720p for review, the night-vision enabled Petcube Play 1080p appeared (see above), and the new Petcube Bites – a pet camera with an integral treat dispenser.
How popular is the concept of an elegant design focused treat dispenser? Well, it exceeded its Kickstarter goal by 159% For the pet parent who worries about what is happening at home or wants to engage their pet in some online play. This is the perfect gift!
Where do I find a Petcube
You can click on our affiliate link images and this takes you directly to the Petcube Store, or you might find th Petcibe in your local electronics store.