Welcome to Neko Ngeru Cat Cafe: where cats and coffee come together. Following an exclusive sneak peek at Lower Hutt's new and highly anticipated cat cafe earlier this week, I've crafted an exciting preview video to share with Dash Kitten readers and spread the exciting news about the opening, which is happening soon.
BREAKING NEWS 16 November. The cat cafe has a passed it's official inspection and will announce its opening date soon.
The Long Cat Cafe Road
The cafe dream began with a kickstarter to raise extra funds to help with a host of expenses including fitting out the cat room's spectacular 'kitty parkour' along the walls (see the video!) and it has been a long and sometimes frustrating journey. But the faith and encouragement of many people has kept the dream alive and everyone is thrilled to finally see the finish line in sight.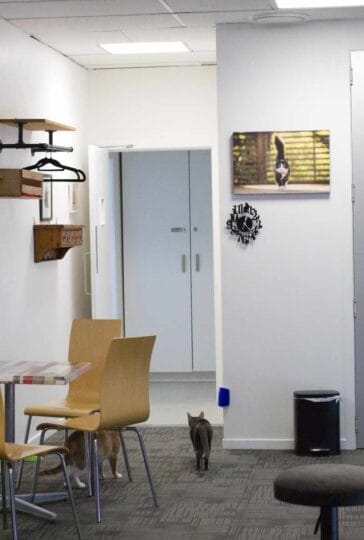 Cat Retail Therapy
In addition to the cafe with its fantastic snacks, drinks and desserts, there will also be a fully stocked shop with cat themed merchandise, such as T-shirts, jewelry, and useful cat items like combs and brushes. I am guessing that the cat shop will become every local cat lover's go to spot for gifts.
Are we excited? YES! There are are cats in residence, comfortabe places to sit and the dream is finally coming true.
The cafe's long anticipated opening is beginning to generate a lot of excitement as images of the cat being introduced to the cafe are shared on Facebook. A limited number of visitors invited behind the scenes have been able to take photographs, including me. The cats post so nicely and all look so happy to be there.
Where have the cafe cats come from?
All of the are rescue cats with a story to tell and you can find some of their tales on the cafe's Facebook page often with beautiful photographs by professional photographer Masa Udogawa.
Some of the cafe cats have been fostered by supporters. These fantastic and generous people have encouraged the outgoing natures of the cats and made them comfortable around other humans, as I discovered on my visit.
Some of the cafe cats welcome you warmly and others become friendly after they have thoroughly checked you out. Of course they do, they are cats after all. I believe that there will be resident and adoptable cats at the start and I know one young male, Candy, gives the best head butts in the Hutt. (There's a T-Shirt motif if ever I saw one!)
A Warm Cat Cafe Welcome
You can experience the purr-fect cup of coffee at Neko Ngeru Cat Cafe and Cafe Soleil, and get as warm a welcome as crossword setter Paul (aka Phi) did from Delilah. I had to try very hard not to laugh as she sniffed and patted, but Paul stayed very still while I took photos. What a hero!
Be ready to experience the joy of cat therapy at the cafe soon.