I am working on an eBook to send out to mailing list members at Dash Kitten. It's fun to put together and will be a good read but there's a lot of work involved. I managed a selfie of Miranda though!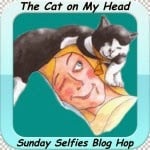 Some of the tools that the app offers are a big step up from simple filters that switch your cat photo's general look. They need a bit more skill than you would expect but you can create a cat photo you will be proud of and share it from your own phone.
My original Snapseed post is here.
A Dramatic Double Exposure
---
SAGE aka 'TKS'
When I visited America to attend Blogpaws® I spent time with friend Savannah and her Mom and Dad. I met young Sage who was the 'new kid on the block' and a happy addition to the Paw Tracks family.
When Savvy reported on the latest antics of Sage it was with a touch of exasperation that transformed into affection over the course of time. Sage's sudden loss is a real blow as she was greatly loved by her dad. You can read about Sage here, and see Anne's lovely collage of images of one of the most lovely black cats.
I am including this simple and beautiful tribute from Ann and June at Zoolatry who has captured the simple grace of a black cat and a touch of TKS personality.