When it comes to cat photography, understanding how to use light can make all the difference in creating stunning images. Whether you're shooting in a garden, on a catio, or by a window, natural light can be a great tool in a beginner's photo 'armoury'. [Updated June 2023]
I need to add (as I got a small light for my birthday!) that you can also experiment with extra illumination or a detachable flash to add some extra spark to your photos. With practice and experimentation, you will learn to adjust your camera's settings and create your own unique cat photos whether you use a DSLR/Mirrorless camera or your smartphone.
We are an official Amazon affiliate which costs you nothing but allows us to donate to our US rescue Place for Cats since Amazon Smile has been removed..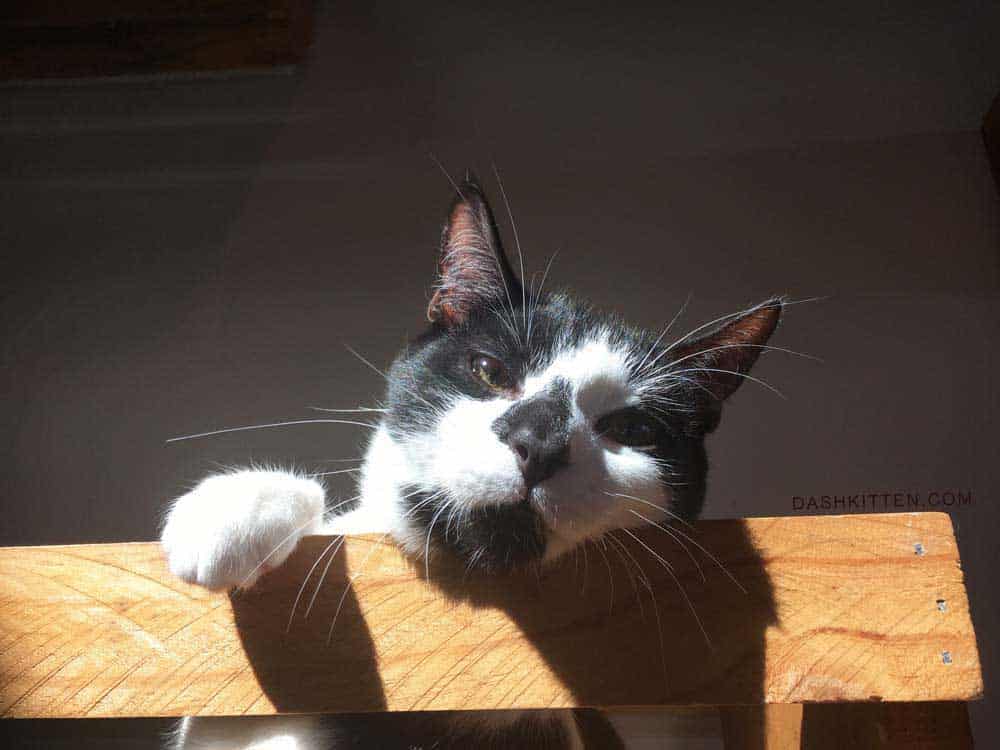 Without light, you wouldn't take pictures and as you take lots of photographs you will learn what strength of light works for you and your cat and what doesn't.
Light is Life for the Beginner Photographer
Check out the photograph of Sydney (above). The picture was taken with a smartphone and not edited at all.
The magic comes from the fact that the photo is angled upwards in a dramatic way, and the strong sunlight casts deep black shadows. The look is spectacular and the light makes such a dramatic statement. I looked up, saw Sydney pose and took a chance. Do the same and you might surprise yurself with some amazing results.
The picture of Angel Harvey (above), a senior cat, was taken in bright natural light. He looks at me and I aimed to capture a bright and curious look. I could have used photo software (Affinity Photo, GIMP) to brighten the shadows of his face (see Dodge and Burn) but as you see it, I do not feel I need to do much to enhance a successful candid shot.
Natural Light
As a beginner or novice picture taker don't be concerned about fancy lights or professional set-ups. Use natural light as much as you can. You will be surprised how many wonderful pictures you will take just relaxing and enjoying your cat's company.
Remember – bright light can be sunshine or reflected light from snow and this does the work of a dozen lights.
Black Cat Fur 101
The most important thing to remember about taking photographs of black cats is:
Use as much natural light as you can this gives the fur shape. (See Inky above)
Capture the important 'catch light' that brings any cat portrait to life.
That catch light adds a touch of magic you cannot replace in any cat photo. A cat or dog, a rabbit or reptile has a glimmer in the eye that shows life and soul. This light is also preserved by artists who paint or draw animals. Their work will look lifeless until the last essential spot of white is painted into an eye.
Black fur absorbs so much light that it can be tough to see if you have been successful, even if you have taken time to try the right settings. It's a throw of the dice but the gamble can be a success as the pictures of Sydney and Inky show. For now I am going to eperiment with my new light.
I hope after this that you will not be worried about light and that you will use what you have to take some wonderful pictures. Be brave, fearless and be prepared laugh at your mistakes and learn from them!