My serendipitous discovery of Karen Kuykendall brings together two different parts of the worldwide cat community. On one she was a talented, inventive and boundary stretching artist. On the other, a worldwide community of feline inspired creatives, the Cat Writer's' Assocation (CWA). I also want to thank the readers who have commented with so much helpful information about Karen Kuykendall's other books and work. [Updated 2023]
I have been intrigued by the work and world of American artist Karen Kuykendall since I won the Kuykendall Image Award in 2019. She is the creator of the extraordinary Cat Tarot set in the exotic Outer Regions, and a host of dazzling books and art works including Mark of the Cat and Year of the Rat as well as jewellery, art dolls and sculpture, much of which are now on display at the Mesa Historical Museum, AZ, U.S.A in a rotating annual display.
A Cat Tarot Discovery Story
We are an official Amazon and Joby tripod affiliate which costs you nothing but allows us to earn a modest commission.
Let me explain how this discovery came to light.
After my family settled in New Zealand I was unpacking and saw a small parcel hidden deep in the shadows of a packing crate. I didn't recognise th pack at first at first. But I realised that it was a cat tarot deck that had been a gift from a friend. The box was wrapped to protect it from damage during its journey on a container ship from Great Britain.
I examined the box, taking in the title and the artist – Tarot of the Cat People, Karen Kuykendall
The name sounded familiar and it took me a moment to remember that this was the artist who designed the prestigious Cat Writers' Association's Muse® Medallion, one of the cat creatives foremost achievements.
As a recipient of a Muse medallion myself, I was intrigued and wanted to find out more about the artist. I began to explore Karen Kuykendall's legacy in more depth to find out more about the Tarot of the Cat People, and her many other works in an astonishing range of media.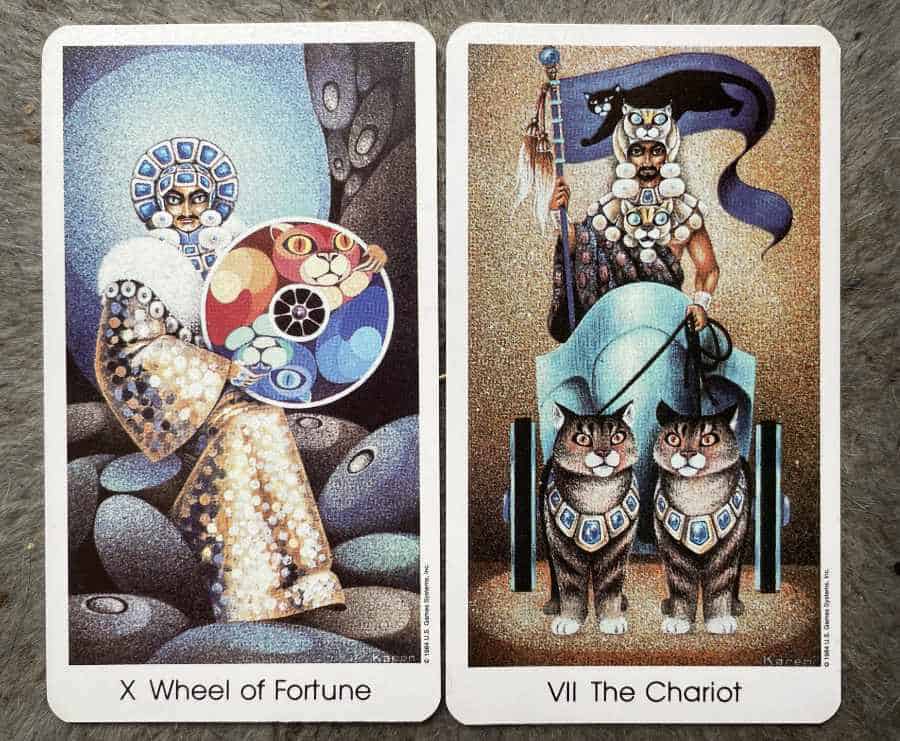 The Cat People Tarot deck is a powerful blend of symbolism and the imagery of science fiction and fantasy, using elaborate design and cats to enhance the symbolism of each card. 64 page book included. 78 cards. Card stack is 4 5/8″ x 2 5/8″ x 1″
Karen Kuykendall, Biographical Notes
Searching for information about Karen Kuykendall I discovered snippets of information scattered across the internet. There are several online mini biographies and while they did not go into depth, each one shared a unique aspect of her character.
I discovered that Karen Kuykendall was a native of San Diego, who spent a lot of her creative time in Casa Grande, Arizona. She was a versatile artist who worked in a huge range of styles and drew her inspiration from an incredible collection of sources including Native American folk art, 1960's hippy culture and Ancient Egypt. In 1965 and 1966 she was the only female editorial cartoonist in the United States when she worked for the Casa Grande Dispatch.
Karen Kuykendall's paintings hang in homes through the USA and she designed furniture for the American Jamestown Lounge Furniture Company (Pinterest). Her interest in creativity led her to teach art in Arizona's public schools for nine years and also guide students at the University of Arizona.
Her love of cats prompted her to write two books about her cats, including photographs. Karen's Cats, and Karen's Cats Book II – Multicat life. I am trying to find book covers to include in this post so if you have one, email me.
In the mid-nineteen sixties, she worked for the Casa Grande Dispatch as the only female editorial cartoonist in America.
Kuykendall was a pioneer in the popularization of science fiction art. We explore the historical implications of her work, how it may be viewed from a modern lens, and how collecting and assigning value to objects within a museum mirrors social and community change

Mesa Historical Museum
Karen Kuykendall was a published author who took part in and judged art shows. Her paintings, jewellery and papier-mache creations have been exhibited at both the Phoenix Art Museum and the Tucson Art Museum and, on her death in 1998 the Mesa Historical Museum acquired her collections and jewellery numbering over 1,000 pieces.
Tarot of the Cat People
Unlike modern designers, who often work with computers and tablets, Karen Kuykendall hand painted each of the tarot cards on artist's board 9.5 by 15.5 ins. (24 x 39 cms). The unique backgrounds are hand speckled and each card features an elaborately painted figure and at least one cat. It is worth looking at the interpretations of the cats as each is unique and reflects the nature of the card. The deck illustrations took two years to complete. [There are 79 cards in total.]
There are kitties everywhere. Even Death has a feline skeleton walking by his side.

BritishTarot.com
I admire the creative design of tarot artists because they work within the constraints of a theme on a huge creative project that includes dozens of themed cards. I have one set of cards on a cat theme from The Bohemian Cat Tarot at Magic Realist Press. This set now goes for high prices, but thankfully the Cat Tarot has a more accessible price and is available on Amazon. In fact, if you read the comments you will see that a reader unearthed a treasured deck very recently.
For German speaking readers the 'Cat People Tarot, Buch und 78 Tarot Karten' may be found locally.
The original art was painted in acrylic on board, using a "splatter" technique whereby Kuykendall masked areas and painted around them using a toothbrush. The effect is delicate and subtle with almost pointillistic gradations of color.

Learn Tarot
The Outer Regions
If you can examine a box of the Tarot cards, you will find a small, fascinating booklet with the card deck. It describes the terrain, the atmosphere and the figures who inhabit a world called The Outer Regions. The booklet gives glimpses of the intriguing world and its complex, multilayered structure. Like all the best fantasy worlds, this one is highly detailed and very atmospheric. Cats play a big part in the region's traditions and stories and they are vividly portrayed on the tarot cards.
The figures, seen from a 2021 perspective, are a balance of classic 1980's shapes and colours, and there are surprising 21st century resonances. The rich flowing costumes are embellished with elaborate architectural jewellery. The range of skin tones embraces many different ethnicities and nationalities around the globe. These include ancient Egyptian, Native Americans, and fierce Mongolian warriors.
The inclusive nature of the Cat Tarot deck is decades ahead of its time.
Novels About The Outer Regions
The Outer Regions are conceived as existing in a parallel universe, a very magical place divided into six kingdoms that are represented by various precious gemstones that serve as the defining emblems for each ecologically distinct territorial entity.

Rambles
Written together with Andre Norton the books 'Mark of the Cat' and sequel 'Year of the Rat' take place in these Outer Regions. If you look for the books you will often find the two novels combined into one volume. The cat tarot books are available in Kindle and paperback formats on Amazon and through book searches.
There are some fascinating insights into the deck through the comments you can read on Goodreads if you are a member.
For those who want a closer look at the deck, I discovered the perfect introduction to the Tarot of the Cat People deck in a short video on YouTube. This is the perfect way to get a flavour of the this amazing world.
The entire deck is also available for viewing at Tarot.com.
The CWA Muse® Medallion
The cat motif on the CWA awards Muse® medallion was designed by Karen Kuykendall. It is elegantly simple and the perfect design for the prestigious Cat Writers' Association Communication Awards given out each year.
Karen Kuykendall on Pinterest
If you create boards on Pinterest, the museum has added a series of images of Karen Kuykendall's work. If you can acess Pinterest, I strongly recommend a look as there are examples of her jewellery and art dolls inspired by the Native American nations. Use my link here as a starting point for your explorations of the amazing art dolls and jewellery.
The Artwork is more stunning than I could of imagined, the cards resonate so as I was a child of the 80's and I love native American history, northern and southern. And as for the cosmic multidimensional nature of the cards blew my mind….

Commenter at Dash Kitten
Major Exhibition of Kuykendall Art Works
The Mesa Historical Museum. announced that an exhibit has been created to showcase the Kuykendall pieces in their extensive collection. The exhibit includes an ever changing display of sculptures, paintings, papier-mâché models and art dolls. You can see one of the Kuykendall exhibition posters on the Mesa Historial museum Facebook page (2021)
---
Tarot of the Cat People Resources