Did you know you that Apple have hidden an extra menu in your iPhone photo app? It could be your iPhone's best kept cat photo secret. No, it's not hard to find and these super quick tips will help you find it (and take batter photos), in no time!
So many people, including me, had not explored it because they didn't know it was there!
Your Usual iPhone Interface
Let me show you a quick example of an iPhone ith the photo app open.
Your iPhone camera interface will look like this when you open it. You may see Photo, Portrait, Video, Slo-Mo and Panorama functions. These are all great options when you are using your iPhone as your main camera, as well as your 'phone every day and you can use your thumb or finger to scroll through the options. So far so good. These are all things you might have used before BUT….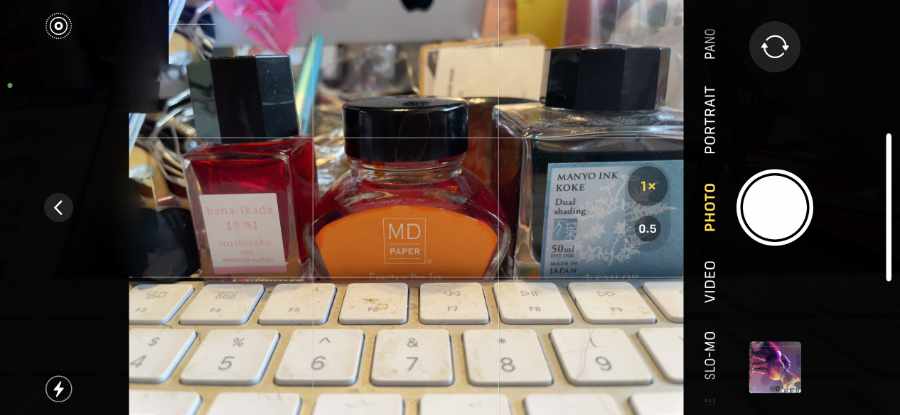 What happens when you put your finger on the screen and slide it from left to right….?
Eureka! A hidden menu appears. A menu that will help you improve your smartphone photos without elaborate apps and other camera software, right then and there.
Holding your 'phone horizontally and take a moment to look at this new menu. You will see a range of tools to help you adjust your photos.
A Self Timer
Exposure Adjustments
Format adjustments, including square for Instagram
Live Auto aka 'Burst' mode.
A range of Filters
Different Flash Settings
Oh, the cat? He's wallpaper from the game Stray.
The menu is easy to access and each of these menus has a short series of adjustments you can make very quickly when you point your phone at your cat. Is kitty too dark? Don't stress, adjust your exposure a bit. Need an Insta snapshot fast? Change your format on the fly. All within the photo app itself.
Where did I find this goldmine of information to share? In the iPhone Photography academy and its amazing iPhone course (affiliate link) that I am taking part in right now! I have only just started and I am hugely impressed with the content so far (and ye I am fussy about the courses I pay for). I love my DSLR but as a lifelong learner this course is so much fun and as a skill builder it is amazing.
Can you find the menu on your iPhone? OK I admit it, Android users get a pass this week!