Sometimes you take photographs that are not really bad just sort of meh – right? You feel there is something good there and you don't want to let that photo go without a fight. I asked myself, how do you rescue a bad cat photo?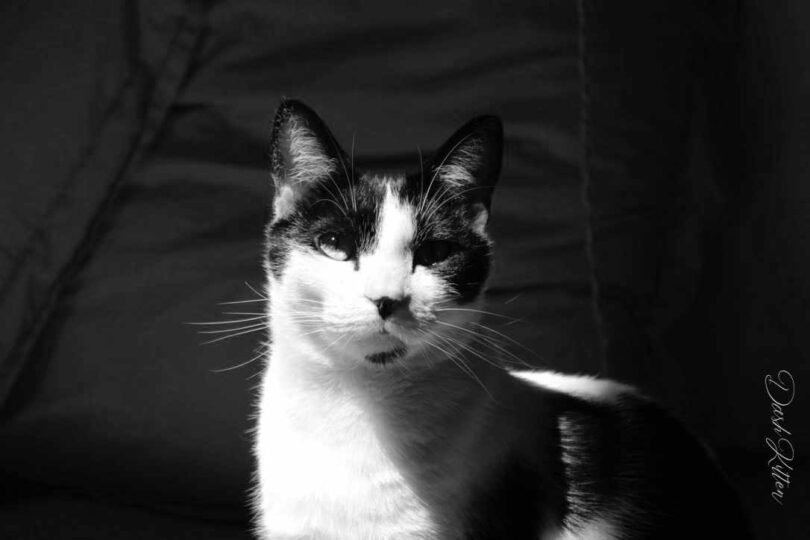 Ways To Improve a Cat Photograph
You can remove red eye
There are times when you get 'pet eye' or red eye as it appears in humans. That zombie like stare that looks terrible and totally creeps you out.
You can remove this by using one of the many software packages like Photoshop Elements (PSE), GIMP, and Affinity Photo. These are all packages I have used successfully. None of the software packages is hard to use and YouTube has friendly tutorials to help you fix a pet's glowing eyes. If this is the only thing wrong with a great photo give red eye removal a try.
Crop Your Image For Success
This is one of the best cat photography ideas and it's something you must not forget that you can do. Simple, easy and effective.
Cropping doesnt just cut off big chunks of photo, it is a tool that can be used with delicacy and precision. This can mean taking off a small amount of one side or the top or bottom.

If there is a lot of empty space, or the picture element is unbalanced by being too far to one side you can use the rule of thirds measure that automatically appears when you start to use the crop tool.
Careful cropping is useful if your photography will be shown in square format on Instagram.
Disguise a Photo Fail with a Filter
I am a big fan of filters. Partly because you can have a lot of fun and partly because they can transform a failure into a triumph.
I used Photo Lab for this photograph (paid) but there are plenty of free, or trial versions of photo editing software online. I discovered that there are several sites where you can edit online, then save and share. In 2022, the arrival of AI adjustments has transformed the smartphone into a powerful camera accessible to many.
These two photographs disguise the error by disguising it and drawing the viewer's attention elsewhere.
The Photo Lab Heart Bokeh filter (above) has a touch of romantic sweetness to it while the Sketch filter (below) has a more dramatic effect. The filter has the added bonus of adding definition to the tones of fur colour. Both filters highlight Pan's beautiful eyes and draw your attention to them, with or without colour. The mistake in the corner no longer exists and don't forget you can also crop your image then add a filter as well.
Add Text or a Watermark
My final cat photography idea to disguise a photo mistake is to put something relevant on top of the area you want to hide.
You have two quick to use options,
Use a block of colour then add text or your watermark,
or, boldly splash your watermark across to cover a mistake.
Review, Repair and Rescue
You just need to analyse which quick and simple method will work best so you can show off your image on social media, or add to a blog post.
Don't give up without trying a few of these options. I bet you have just the picture to experiment with somewhere in your photo library.
Photograph Editing Resources