With the development of digital SLR cameras, camera 'phones, and other devices, it is easy to find ourselves deleting too much, too quickly. It's not good enough, it's not perfect, it takes up valuable space.
I have news for you and your device. Sometimes delete, delete and delete again is not the great idea we think it is.
I want to use this week's Pet Parade to encourage you to look again at your terrible pictures to find the treasures you have overlooked so don't delete that picture yet.
That Imperfect Image?
It could be the only memory you have.
Look at the pictures we are including in this post. Except for the wonderful picture of Harry (so you know I can take a good picture). These are full of flaws, but, each one holds a memory that is more precious that quality, sharpness or perfect framing.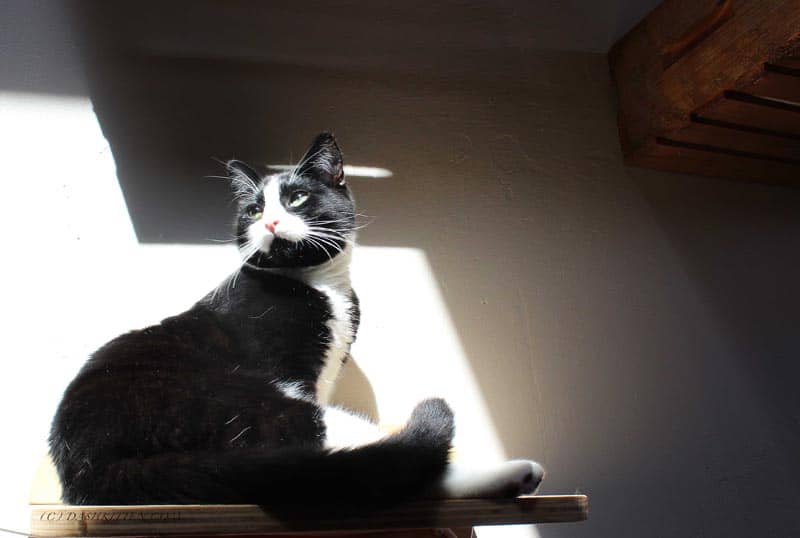 Filters are An Option for a Poor Image
I have been encouraging readers to experiment with filters to enhance your images. A filter can transform an indifferent picture into something eye-catching.
If you have image processing software, using a filter can be worth it. For many pictures though there may be a strong and sentimental link you still treasure.
Bad This, Bad That, Bad Everything
This is a 'don't be too hard on yourself' type picture. Everyone will have pictures like this. Less than top quality but something that captures an unrepeatable moment.
Dusty stopped going out when he became very frail, in fact, you can see just how slender he is here. This turned out to be one of his last trips out into the garden. A snatched moment becomes a memory to treasure and look back on with love.
It is a picture it might have been so easy to delete due to its poor quality but it is one that stays on my hard drive and I will print it off too.
Ignore the Clutter Check the Senior Cat Pose
Another unforgiving image with a story behind it. This is Peanut our 19.5 senior who passed a couple of years ago. The focus is not 100% sharp, and look at the clutter of ornaments behind her.
But, you know what?
This picture was featured on the BlogPaws® website for their Wordless Wednesday feature. Their priority was featuring a senior cat, not the most beautiful pet portrait ever.
The Out of Focus Kitty
For recent visitors to the blog, Dusty has quite a history, this includes movies and plenty of mischief! Dusty became a treasured and loved member of our family and this blurry shot captures something of his cheeky and fearless spirit so it stays – blurry or not.
Just Because Something's Wrong
This cute picture is our youngster Phoebe. There's the corner of a litter tray, then the table leg takes up space on the left side. She is surrounded by garden "stuff".
You know what? I have not deleted the picture because I am happy that I managed to capture her serious young face, and the light isn't too bad either.
There are some of the things I can do to improve this picture:
Trim or clone out the unwelcome garden furniture.
Lighten her dark fur so she stands out more.
Close crop to just the area around Phoebe's face.
Add a frame to obscure the edges of the picture.
Before Deleting Your Photographs
Unless your image is a total catastrophe, which can happen, set aside your judgement on a picture for a short period of time. Give yourself a time out before deleting anything.
I read on a lifestyle blog that you should not delete any of your holiday pictures until you get home. You never know what you might miss checking through your little viewfinder, maybe on a bright day at the beach, or during busy conference evening with friends.
This piece of photography advice is something I have not forgotten. What seems terrible one day is, maybe, not half bad the next, and even 'Wow that's Good' a few days later! So go easy on that delete button!
Hold off on deleting any image until you can examine it properly.
Picture Perfect Memories
TOP PHOTO TIPS:
Don't be too hard on the picture, or your own skills.
You may have just one shot of something special. It is all you have, your only memory. Keep it. You have a wonderful image to treasure, even if you never share it with the world.
Go one step further, have the picture printed off. So many images are lost in the digital age because people forget to print off a copy. How many baby pictures are lost, or kitten pictures wiped by accident? Print. One. Off and then let us know what you have in store for the Pet Parade.