Estimated reading time: 4 minutes
In this quick and fun project using an overlay from Luxe Lens I will add some mystery and sparkle to two cat portraits and I hope to inspire you to create your own fantasy cat portraits.
Overlays in 90 seconds!
If you remember from my previous overlays how-to post, these tools can be used to enhance your images and give them a unique touch. In this case, I'll be applying the overlay to photos of neighbour cat Taz and Crew member Toulouse. With just a few simple steps, I will show you that you can create your own stunning and otherworldly effects!
1. Create A Cat of Mystery!
Start with a clear cat portrait. This idea works wonderfully well if you have a cat portrait where you have angled the camera slightly upwards or like Sienna here you have your cat as your sole focus. Keep it simple and unfussy.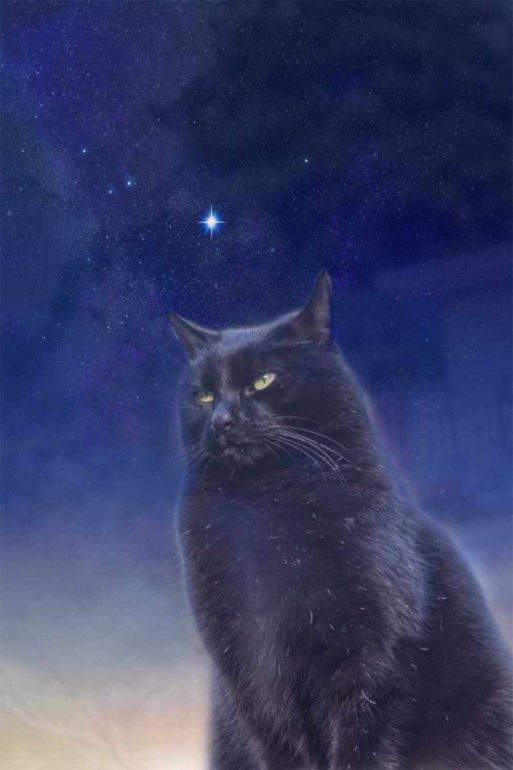 2. Choose Your Overlay
Although I use Luxe Lens overlays you can use any photograph as your background. The selection of a background depends on your ideas and how you want to present your cat. This is your contribution to kitty art so have fun.
Ideas for backgrounds:
Simple Bokeh
Flying Leaves
Stars and Galaxies (which I use)
Snow Storms
Fairy Dust and Glitter
Rainbows or Raindrops
Confetti
Party background (Look for 'party flatlay' images)
CatchUp with my Easy How-To with Videos
3. Add Them All Together
If you need to take more time over trying this adventure then check out the celebration post with its easy to follow video. Otherwise this is a quick step-by-step:
Fire up your computer or tablet.
Choose a dramatic cat photo.
Choose a background that will make your cat look amazing. (Don't like one background? Try another).
Open your cat photo and duplicate it (Cmd/Ctrl J) I always feel happier working on a copy layer, I can delete it there's a mistake.
Open your layer and copy the layer on top of your cat photos.
Use your Layers Menu to adjust the transparency of your overlay and the effect in the layers menu ….
Grab the Eraser tool and working on your overlay layer begin removing the layer so your cat is revealed! You can choose a soft edge as I did here; or a sharper more defined edge.
Review your art work and remember you can adjust the transparency of your overlay.
Save your work.
Cats and Stars II – Toulouse
Make A Series of Overlay Portraits
If you have fun creating your overlay portraits, why not use your experiments to create a series of photos on a theme? Doing this helps you to keep track of your successful portraits and your learning journey. Do you need to share them with the world? Heck no! Not unless you want to.
I have started working on a series of my own that have the cat in a particular place in the shot. I am placing the cat more towards the bottom of the frame and seeing what happens.Adding the loverlays was a later inspiratin. I think what appeals to me is it gives the cats a sense of freedom and space around them. If you find a theme or goal that works for you, use it as a guide and inspiration as your own work too.
I have also added Taz's image to my Red Bubble shop as heaps of different things like a notebook, stickers, T-Shirts and even a dress, as well as an ipad 'skin' Toulouse will be up soon!
Layers Resources