You want to make an impact or impress a sponsor, showcase an important cat adoption event or a specal needs cat? Using video will get you a lot of attention and it is a powerful way to get a message across. Let me share my simple tips on the best length for your social media channels and add some bonus tips on getting starting creating your own quality videos.
I will share my top short cuts to video engagement, including how the social media channel you use impacts on the length of your video and how this can shift your creative focus as you create more helpful content for your readers and watchers.
The Best Social Media Video Length
Hubspot spent time defining the best social media video lengths for major networks like Facebook, Twitter etc., It seems that the length of your video and preferred social media channel are closely linked. This means that to maximise the effectiveness of your video for your intended audience it has to tick a few boxes. It has to be:
Entertaining
Engaging
Helpful
Or for Instagram Reels Fast, Funny and Short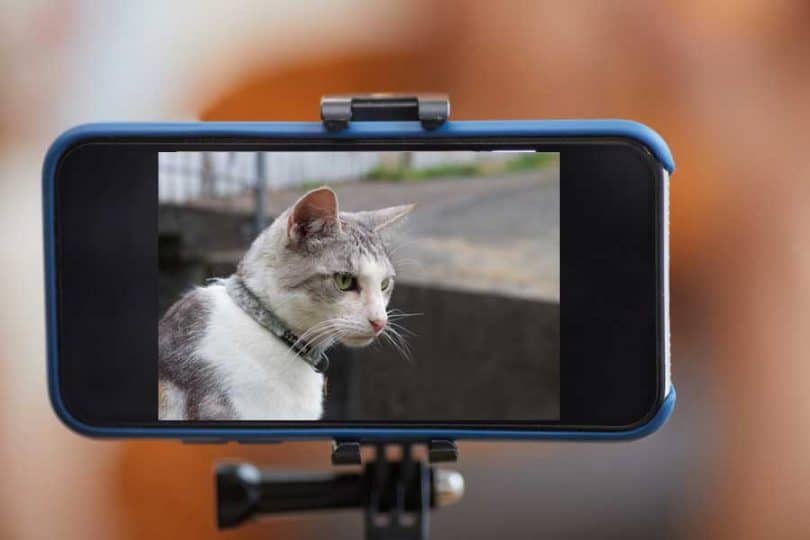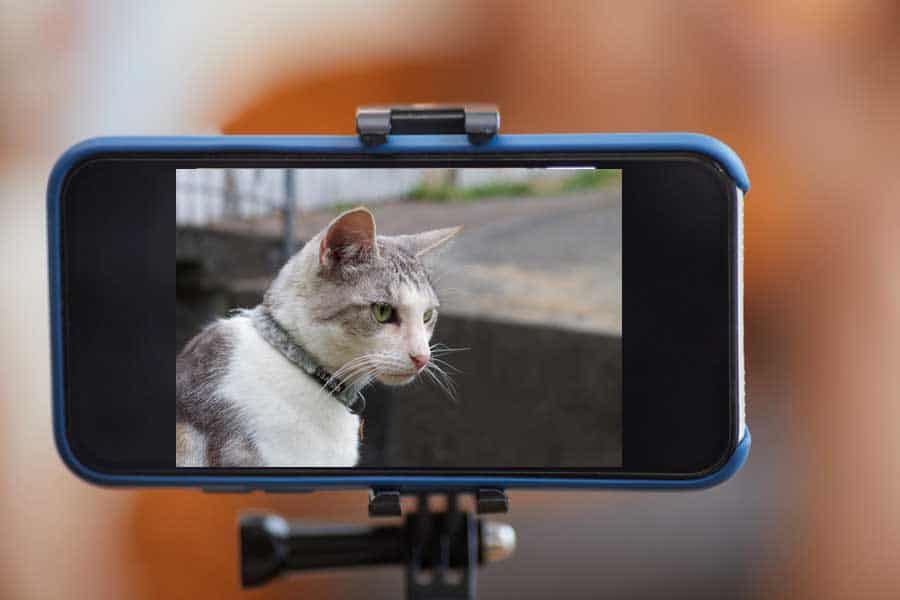 Video is big news in social media
A video can go viral if it hits the spot. This is great for you and fantastic for a sponsor or a cat rescue. Remember though that this kind of success doesn't just happen, it needs support and promotion at the start from you and any supporters of your video.
Get a bunch of friends to share your video a few times, this will encourage more attention and will reach much further.
Create your video channel for the audience you want
Don't try to be everything to every cat lover. If you look at a Twitter video, it is different from an Instagram video in length and format. Let's start with a peek at the video lengths that work best for your favourite social media channels.
Native advertising is a type of advertising, mostly online, that matches the form and function of the platform upon which it appears. – Wikipedia
Best Video Shares on Social Media – Timings
Think Like Your Audience
Put yourself in the shows of your audience. Look through their eyes. It's not as easy as you think when you start out so, in order to gain insight into how this will affect the approach of a video creative, I challenged myself to produce a video for the major social media players. How would my approach change with the different time constraints and the attention spans of my audience?
2 minutes for YouTube
1 minutes for Facebook (Facebookers are the 'make it snappy' types)
45 Seconds for Twitter (fast news on a fast channel)
60 Seconds for Instagram BUT research says 26 second videos do best.
NOTE: The video clips I use are all from previous posts on the Dash Kitten blog. These are either social clips or movie shots from sponsored posts. No money is earned from these sample videos. I will note my impressions on how a blogger's approach might change for each channel.
The Most Successful Lengths for Social Media Videos
Best Video Length for Instagram
The best length of social media videos on Instagram is approximately 30 seconds. Remember that Instagram automatically posts your feed's videos to Reels and these are mostly in portrait (upright) format in 2022.
Instagram is intensely visual. We process images much faster than the written word, so the next time you visit Instagram watch how fast you scroll through the images. It will begin to hit home how short your time is to create an impact with video. [You may also find yourself frustrated by an overload of video clips when you are looking for static images.]
The original video for our Raindrop Campaign sponsored post was longer than one minute, too long for the scrolling demands of Instagram.
How did my approach change for Instagram?.
The video has a fast pace with the combination of video and still images. I used the Ken Burns effect to generate movement in photographs.
Short bursts of text emphasise the sponsor's product, and the text presentation matches my chosen theme of polished steel and clean water.
A more advanced program such as Screenflow, or Adobe Premiere Pro will extend the range of effects and text available. For this video I chose to use iMovie.
TOP TIP Dynamic movement for your short movie is one thing, but if people can't see because you are move too fast, they won't stick around.
How you can appeal to your Instagram audience:
Clear, characterful and readable fonts
Bright coloured text
Simple messages
Fast editing
A quirky transition for visual stimulation.
NOTE A lot depends on your subject matter and the market you aim for.
Best Video Length for Twitter
The best length for social media videos on Twitter is about 45 seconds. Users want their video to reflect the latest news and technology and they want a clear message, very quickly.
How did my approach change for Twitter?
I edited the one minute video from my Tabcat post into a shorter movie for Twitter. The platform has some technical needs that, if you follow them, will make sure your video really hits the spot.
Twitter recommends a 40 fps. fps = frames per second for your video (seedefinition below). The video will be good quality and, mostimportantly, it will be seen very quickly. Twitter exists for fast news and fast communication.
Frames per second (FPS) is a unit that measures display device performance. It consists of the number of complete scans of the display screen that occur each second. This is the number of times the image on the screen is refreshed each second, or the rate at which an imaging device produces unique sequential images called frames.

Techopedia
After half a minute for an Instagram video, having 45 seconds gives you just a bit of story telling room. The video is still short but there is an opportunity to add current and relevant information. In our challenge video, the Call to Action asks people to check out the review on our blog, I could also spotlight any available special offers if it was a sales based post.
How you can appeal to your Twitter audience:
Current and relevant information
Bright funny messages
Quick Demonstrations
Best Video Length for Facebook Video
The optimum length for social media videos on Facebook is about one minute. Facebookers enjoy a video that tells a story that they can share. If they like it, users will start adding 'Likes' which helps you grab more attention. Your aim is to use sixty seconds of time to tell an engaging story. One that grabs user attention and makes them want to go 'Hey you need to watch this'.
For inspiration, check out the highest scoring movies on Facebook at the moment. Watch what they do, and use it as inspiration for your own project.
OK, so I am cheating with my one minute video. I already had a fabulous example ready to roll. Only four seconds over the limit due to the essential end credits for craftspeople, composers and cafe booking details.
How did my approach change for Facebook?
The video introduces Neko-Ngeru, the new cat adoption cafe that opened in Petone, just outside Wellington (they are currently moving to Lower Hutt). One minute gives me enough time to invite viewers into the cafe. The visuals tempt them by showing the venue, kitty antics and the merchandise available. The Call To Action at the end of the video is the invitation to 'book now'.
How you can appeal to your Facebook audience:
Craft a great a sponsor's message
Tell a more extended and engaging story
Show longer candid moments unfolding
Add music. Not essential but, if it enhances my message, I like to add some.
I gained a new insight from the music for this video. It is 'Positive Classic' by SerginSX. I contacted the composer via Envato and it turns out he owns a cat and a dog and was thrilled to see how his music is being used. He told me that this knowledge inspires creatives like himself to keep working.
Be conscious of © copyright when dealing with music. Invest in purchased music, particularly when working with a sponsor or organisation.
Best Video Length for YouTube
The optimum length for social media videos on YouTube is about two minutes. This is a serious amount of time.
A YouTube video can really expand to tell a big story. Whether it's your sponsor's product, a cafe opening, or a cat rescue drama. You will find yourself adopting a different approach to editing a video. I certainly did.

I also need to admit that I have never done a two-minute video so had to create one from scratch for this blog post.
How did my approach change for YouTube?
I had two whole minutes to tell my story and a video of this length needs planning so that you tell your story with good pacing and engage the viewer's complete attention. I chose to extend the original Neko Ngeru cafe opening video by including preview clips shot as the owners prepared for the opening.
A lot more detail could be added to a video like this. I had the opportunity to show preparations behind the scenes and show the excitement leading up to the cafe opening, you could add bloopers and goofs to show that not everything works. I captured plenty of fun moments that engaged the viewers' attention and emotions.
I used fewer transitions and effects in the longer video project. The number of cross dissolves used was minimal and there is only one 'fancy' transition near the start.
How you can appeal to your YouTube audience:
Your content can have more depth as you are telling a richer story over a longer period of time.
You can create an adventure with slow-motion leaps, dramatic cuts and changes of scene,
Develop a 'how to' video or a series to help viewers with a specific task e.g. grooming a pedigree cat, making a cat quilt.
The extra time you have means it is essential you plan, know your story and focus on your message.

BONUS TIPS: Plan Your VideoFirst
Suggested Shooting Plan for a Video Story
You can't just grab your device and go. The best and most effective videos have an intention, a plan that drives them forward to deliver their message. Check this list of tips to help you focus on your best storytelling ideas.
Grab a piece of paper and a pencil or an e-based app like Evernote and get your story into shape.
Focus on your message.
Shoot plenty of video footage (you can't always return to a location)
Review for the best clips to get your message across
Edit, add music, text, and effects to enhance your message
Take a mental break at this point. Don't overthink your good work and ruin it.
Review your finished film – get feedback/criticism from a trusted colleague is possible
Publish and bask in the glory of your two minute epic
The drive and idea may come from your own concept, a sponsor, or a rescue you are creating the video for. These people will want you to present a vision, their hopes and dreams. How you interpret these idea is your job as the video creative.
What is your plan? You need to know what the sponsor, person or organisation's goals are, and what they need from you as the creator,
Think about the audience you are making your film for,
Important. Find out any constraints on time, product placement preferences, and budget (if any),
Do you need access to a specific location? A sponsor's office, shelter admin, or shelter area. Be respectful at all times,
Then tell your sponsors/charity to step back and let you do your work.
Don't believe me? Watch this…
This little promo was created using an iPhone with additional images from the Helen Woodward Animal Center for #RememberMeThursday in a previous year's promotion.
The movie with a message was done quickly, using a cute vintage app called 8mm and was made to add punch to the strong sponsor's message. It was a message already being promoted by the Helen Woodward charity. The video was shared widely and helped get an important message out on to social media.
You will probably be able to watch our video samples and say 'I can do that' or even 'I can do it better'. Good. Go out and make a movie, in fact make lots of movies. If you want to make a good movie to impress a charity, or create a Facebook video full of impact for a sponsor, make sure you work on your skills. Remember that the message is what matters, so use your device and your software with a light touch. It is the message that matters not the price of the equipment you use.
Use your smartphone, your GoPro or a DSLR. Each is a valid piece of creative equipment to make movies for your blog and sharing on social media.
Have you made an impact with your video? Did a rescue or sponsor applaud your work? Let us know.
How Do You Make A Video?
It helps if you are confident with a few tasks when you start a movie project. A basic movie is not too challenging and as a smartphone owner you can grasp the basics in a short period of time. The three basic video skills you need to tell your story are:
Have a super short story outline. "Kitten discovers toy. Falls over toy. Wrestles toy to ground. Success."
Know how to cut clips so they create a story.
Add text e.g. information like links, web address, contact details
See how your app uploads your video so you can do it with confidence.
Know your own movie software
Get these three basics in your skillset and you will gain confidence and a sense of achievement with every video you create. If you struggle with basics then you lose all the creative fun and, believe it or not, making videos for sponsors or rescue cats is meant to be FUN.
I recommend that as a first step you explore the video software on your smartphone or computer. Don't dive in and hope to create a world beater, just make friends with your software.
At first the interface might look like total overload but explore a couple of tutorial videos and you will be surprised how soon you will edit with more assurance. I began my editing journey with Apple's iMovie which is aimed at the new user, then I graduated to the more professional level Screenflow. Ad a new editor you might try:
DaVinci Resolve (free/paid). Lots of tutorials.
Wondershare Filmore X (Windows/budget)
Apple iMovie (free with Apple devices)
Clipify – helps you create videos in an instant.
High-end editors include Screenflow or Adobe Premiere Pro.
If I plan my video and with my material assembled I can edit and produce a short video reasonably quickly. You do not need to be an expert adobie or user, just learn the essentials of cutting, transitions, adding text and uploading your movie.
If you are unsure of your editing skill level, we have covered editing previously on the blog:
Social Media Specifications:
Specifications change for each social media channel so you will want to bookmark this Google docs page from Sprout Social. It has the most up-to-date social media video specifications on the planet.