Regular readers will remember my review of the Photoshop Camera app and how much I enjoy the app's simplicity and versatility.
The app's ability to transform photos, and the subtle use of AI (artificial intelligence) makes it so easy to use by anyone with a smartphone. There is a very gentle learning curve and you will be thrilled at some of the changes you can make to a single cat photo.
Teddy The Tuxedo Transformed
Not everyone has the time to sit down and work through all of the options of every filter in Photoshop Camera so I selected one called Dreamscape to show you the differences just one filter can make to your cat photo by using Teddy our tuxedo as a 'meowdel'.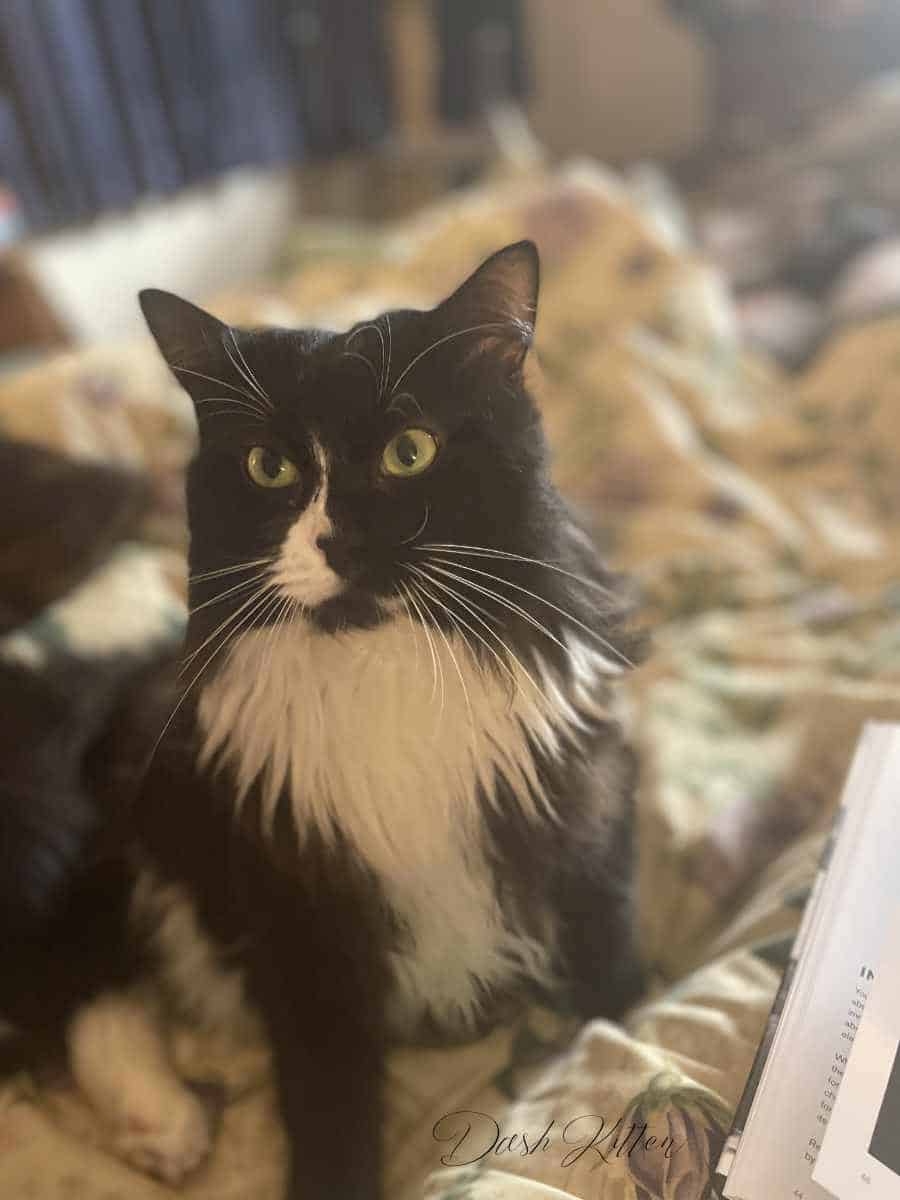 The first photograph is a plain smartphone image using 'Portrait' mode. This gives Teddy the soft background usually only found with a DSLR or mirrorless camera. The image looks a little bit chaotic behind Teddy so I decided to see if a few filter treatments would make a difference.
As you can see from the trial images using the Dreamcatcher filter, Teddy is surrounded by completely different environments. In the first photograph he looks as though he is a mythical cat being with ethereal mists and mysterious 'horns'.
If you know your Shakespeare, he reminds me of the final act of The Merry Wives of Windsor' where Falstaff dresses up as Hern the Hunter to court a lady.
In the second image Teddy poses in front of a spectacular full moon observed by a distant stag. The background has a texture from the original but is vague and undefined so your eyes are drawn to Teddy as he poses.
Below are two more Dreamcatcher treatments.
Butterflies surround Teddy and fly around behind him and, if you look carefully, you can see one resting on his forehead. This filter looks as though it has many layers even though the original image might have been improve by using the AI function Photoshop Camera app has.
Finally, in the last image can you see the ghostly tiger slipping away behind our tuxedo model? The big cat seems to be travelling through a background of mysterious stars and deep rich colours while Teddy looks away into the night.
Filter Recommendations
The difference a filter can make to your photographs is amazing.
You can use Photoshop Camera's Artificial Intelligence to subtly sharpen and improve a slightly fuzzy photo and lighten it up.
Explore the mysterious shadows of a filter like Dreamcatcher.
Cheer up a photo with Whimsy or,
change the whole feel of your cat photo with Window Reflections or Mythos
Have you ever tried a filter Did you like the results? Let me know in the comments.