Dash Kitten has won Certificates of Excellence (CoE) in the 2020 CWA Communication Contest. This is the icing on the cake alongside our CWA Muse® Medallion and Special Awards Honours in 2019.
I am glad to say the photos I submitted met with the judges' approval and one or two blog posts as well. I am sharing these here so you don't have to go hunting around, like a cat on the blog to find them!
Dash Kitten Winning Photographs and Posts
A post about how important it is to keep paper or canvas print copies of your cat photos. So much can happen and we need to be proactive about keeping our treasures safe. Here are some positive steps to take. The photo shows my photo of Dot Kitten framed by Snapfish.
During the worst of last year's lockdown, I was inspired to create a series of simple challenges for everyone to try out, enjoy and boost their creativity. I know these have all been enjoyed and the series included:
The filter treated photograph of Toulouse here is also part of a 2020 CWA Communications Content CoE for a 'Series of Photographs'. These feature in the winning Filter post. They are intended to encourage everyone to explore their photo apps, photo software and filters to add a touch of magic to their photos.
I nearly had second thoughts about submitting the series, but I want people to grab their device or computer and explore. It is a tribute to the cats we love to create beautiful images of them.
An inspiring post I wrote to encourage everyone to try and capture moments and memories of cats and celebrate that special and unforgettable moment that you will treasure forever. Being prepared matters, and this post covers lots of helpful tips to set you on the right path – especially if you are a beginner.
Toulouse Steals the Show
The final 2020 CWA Communications Contest Certificate of Excellence has been won by Toulouse. It is one of my favourite pictures of him and I am glad people all over the world like it.
---
The most important award for cat artists, creatives and writers is the CWA Muse Medallion
I wrote about designer Karen Kuykendall and the Cat Writers' Association (CWA) medallion here, and this week I want to show the actual medallion that a winner receives.
Mine took a while to get here, thanks to pandemic posting but it finally arrived.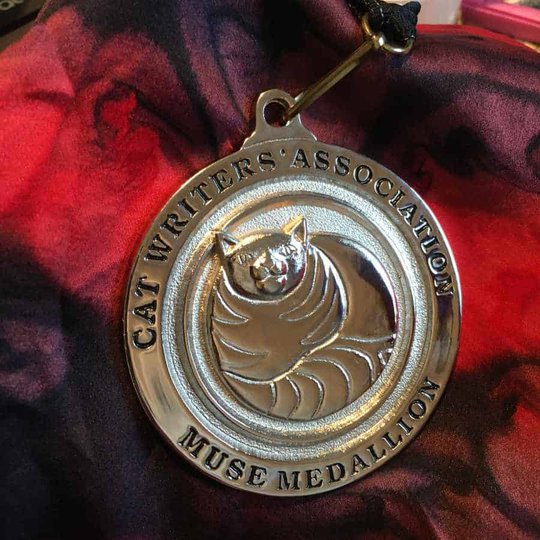 The Muse Says A Lot About The CWA
Not only are awards individually inscribed, detailing the category and the recipient's name, but the medal is created by an American company, Creative Casting which is based in Denison, Texas.
You can see The Creative Casting logo on the back of the medal. I recognise the shape of that state. It's Texas!
In these times of 'cheap and cheerful' and plastic make-do's, to receive an award of such high quality gives the award real substance and value.
The CWA includes its entire worldwide membership in the ability to win awards and a CWA Muse Medallion.
Let me emphasis the importance of this statement.
This is not a cheap option. It raises the CWA high above many organisations who might consider it unnecessary or too expensive to let anyone outside the Unites States win something that might take time and effort to send.
Overseas members are valued for their contribution in the best way. They can win a Muse themselves.
I am sure you, like me, think the medallion looks fabulous but you probably have no idea of its actual size. Let me show you.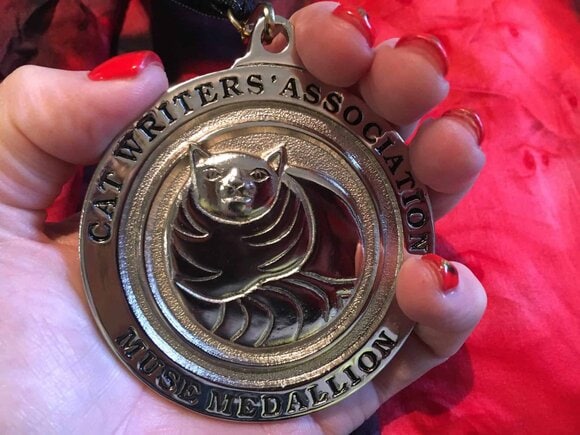 The Muse Medallion Has Substance
I am not talking 2.4 centimetres, (about an inch), so you can wear it around your neck.
I hope that the photo above will give you an idea? I am holding the Muse in my left hand to take a photo with my right and, there is something special on the back too.
The medal is cast in real metal and it has my name and the category of the Muse I achieved, and the year of my win.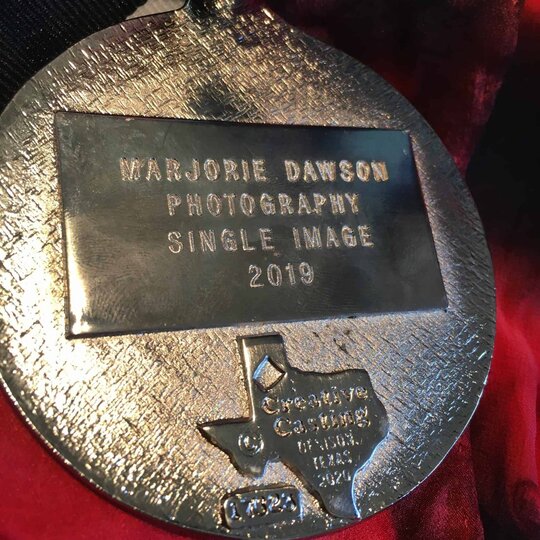 If you are a CWA member, you can be proud of your Association's emphasis on worldwide inclusivity, as well as its willingness to move with the times. The CWA has been busy with extensive Contest Category revision to include the growing power of social media and online submission of work for members.
I am grateful for the friendship of many talented bloggers, cat artists and rescue folk including Kat from Kat, Ellie and Bear, and Marci Kladnik, who is responsible for ensuring awards are sent out and did a great job. I hope to meet many more of my Cat Writer friends at a real life future event!
Are YOU a cat artist, writer, cartoonist or painter??? Join Today!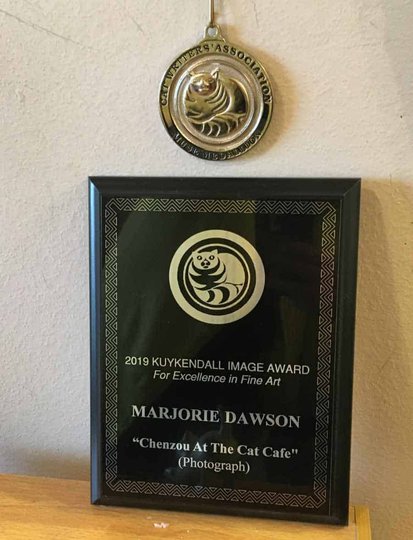 ---
Our 2019 Awards
Tooting our own horn doesn't come easily to us but I have to tell you! Dash Kitten has won important prizes at the annual Cat Writers' Association Communication Awards for 2019.
I received a much-desired Muse® Medallion and a truly special surprise, the Kuykendall Image Award. Both of these consolidate the blog's work towards helping bloggers and pet lovers take fantastic pictures of their pets and products.
No one can be more thrilled, excited and stunned as I am right now at winning and I am in the most awesome company including Melissa and Mudpie, and Kat Kern and Bear.
What is the CWA Communication Awards?
The awards celebrate the work done by CWA members at the highest level. They acknowledge work done throughout the previous year in a range of categories including:
Journalism, Novels, Children's books and Online Publishing.
Art in the form of painting, drawing, cartoons, and photography.
Social Media Excellence on a channel such as Instagram or Facebook.
Video and audio presentations including full-length films, short videos and podcasts.
The awards began in 1994 with 5 contest categories and 10 Special Awards. Recent revisions to the CWA creative categories are embracing the importance of social media in our lives, and the popularity of broadcasting.
The CWA Hosts a Virtual Awards Ceremony
The persistence of the Covid-19 virus meant that the CWA reluctantly but wisely cancelled their annual celebration. The gathering usually allows many cat creatives to meet up, and also to introduce themselves to the many amazing sponsors that support the organisation.
Then the CWA went virtual with their Glammies to Jammies awards online. Everyone was thrilled to be able to celebrate with the Facebook event (or Zoom if it worked) and I am guessing you can imagine the excitement. Deb Barnes (President) and her team created an event everyone could enjoy and they deserve our congratulations for all what I know is a lot of hard work.
How are the CWA Awards Judged?
Certificates of Excellence (CoE) are judged by professional members of the CWA according to an objective standard of excellence, not against each other. A certificate is only awarded for an average score of 90 or higher.
This means work has to reach a very high standard and impress three professional judges with its quality. CoE winners then become eligible for (but are not guaranteed) a Muse medallion.
The Special Awards are judged by experts in their fields who are not CWA members.
The Muse Medallion was designed by cat artist the late Karen Kuykendall (who was also the first recipient of a Muse).
My Muse® Medallion And A Special Award
Winning a CWA Muse® Medallion
Here is what it means for me, as a cat creative and a photographer.
When I joined the CWA my aim was to be part of an organisation where I would learn a lot and also share my own knowledge with fellow 'cat creatives'. The thought of winning Muse medallion was a goal I worked towards 'at some time in the future'.
The 2019 awards are the first time I have had the confidence to submit photographs and I won three Certificates. The photo of Dot, which you can see below, Chenzou, and Tiger Lily and Richelle at the Cat Cafe.
When the list of 23 Certificate winners in my category was displayed at the presentation ceremony, I could see I was standing with the best, and I held my breath.
Then I won the Muse medallion.
I rushed into Paul's office to let him know. I could hardly choke out the words. He thought something terrible had happened to one of the cats until I was able to get my wits together and let him know. I got a celebratory hug and took a breath and returned to the virtual event as I had more friends to cheer on.
If you are interested in joining the Cat Writers' Association check them out here.
I was able to celebrate wins by some of my favourite bloggers with well-deserved Muses for a year's worth of hard work.
The Special Awards from the CWA began.
I cheered as artist Beverley Garland won for her video about Jugg. Beverly is painting Dot's portrait later this year. (Check out the short video it's so great.)
By the time the next award came up, I was still cheering other winners, and forgot that I had entered one of the special awards myself…….
Then the winner of the Kuykendall Image Award was announced and I nearly fell of my chair.
It was me.
The Kuykendall Image Award
Let me quote you the Cat Writers' description of the Kuykendall Award.
"Sponsored by the CWA, this award is presented for the outstanding "image" entry featuring cats – whether photography, illustration, drawing, painting, or graphic art.
This may be a single piece or series entry, including, but not limited to, photos/artwork published in a magazine, newspaper, newsletter, book, pamphlet, calendar, poster, greeting card, or commercial online publication.
This award consists of $500 and a commemorative item."
The image that won was the much admired one of Chenzou at the Cat Cafe.
Judge's Comments on Chenzou at the Cat Cafe
This photo really grabbed my attention. This is a really lovely, evocative image that embodies the elegance of cats.  There is a calmness to the photo that reaches me in a way that we don't see often.  I felt at peace with the image.
Me, Right Now
You can imagine how much an award like this means.
My skills continue to develop and my goal to create a blog that encourages pet owners to take better pictures no matter what their camera, is in my sights. Look out for 'New Beginnings'.