Welcome to Week Two of the Dash Kitten Fun Photo Projects for Cats. This week's challenge in the photo projects series lets you max out on the creative side of photo editing. Let me show you how to make your photos look breathtakingly gorgeous or totally extreme.
You will have some fun with your cats and your camera and you don't need expensive new equipment to do it. Compacts and DSLRs are welcome and I spotlight some great apps for smartphones too. You may need to download your photos to a computer or tablet via a cable, card or wifi to work at a bigger scale if you want to.
If you want to do fun, cool or artistic things to your photos, this is the place to be. Beginners are especially welcome and I am happy to answer questions either in the comments or via email. So do get in touch if you need help.
This week's Challenge – Transform a Photograph with an App or Program on your Smartphone, Computer or Tablet.
There is a Table of Contents that will give you plenty of ideas to pick and choose from. Each gives you fast access to software recommendations and 'before and after' digital image enhancement. Thanks to the ToC you have the bonus of 'cherry-picking' which app or program to read about.
NOTE: There are amazing free and paid online editors for smartphones, Macintosh and PC and you will be spoiled for choice.
How To Start Your Digital Imaging Journey
You need three things to start having fun transforming your own images.
Digital photographs. You can use one from last week's challenge.
A Computer, Tablet or Smartphone
Photo Editing Software on your computer, or online.
NOTE: You can also use images you have scanned into your device.
I have listed several programs for each type of device, and if your computer or smartphone can't process images, check out the online editors. These allow you to adjust digital images without downloading any software. You simply download your finished digital image.
Whether you use this challenge to create fun photo projects for the holidays, to use on social media or explore the software in greater depth there are software and 'app-ortunities that will help you explore all of the fun things you can do. Let's start with Software, then move on to what you can do!
Photo Editing Software
Online Editors
The Fotor platform also has a wide range of options including online photo editor, photo effects, and text. Fotor offers photo retouching, and collage creation. The sample image here shows that each option has a pop out explanation to inform your editing decisions. There are a lot of easy to access options. The layout is spacious user friendly, and I did not have to register to edit an image and I found a great tutorial here.
FREE and Paid Options. Mac and Windows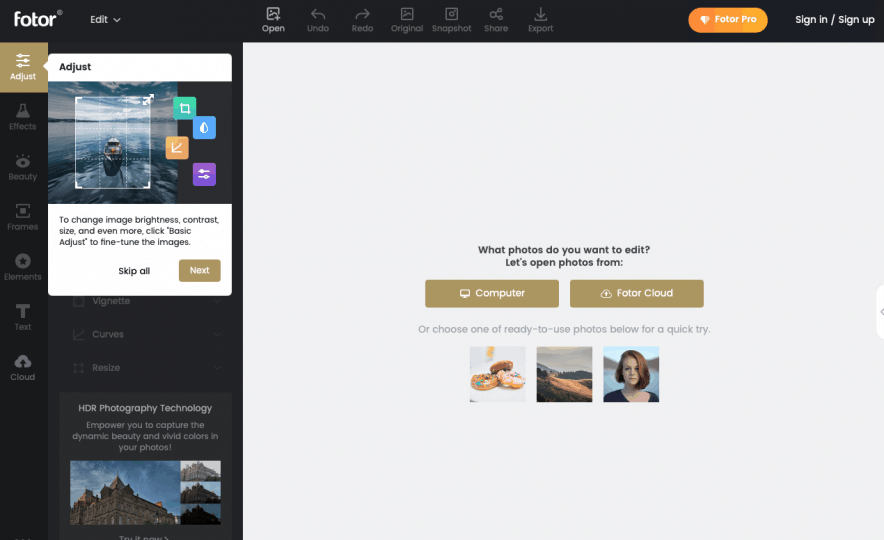 Photoshop Express
A streamlined online editor that makes photo manipulation easy. You can crop, resize, touch-up and apply different filters. All you do is upload your image as the standard JPEG or a PNG file. Select a filter and adjust your image, the download your finished work. This program lets you drag a photo from your desk top, so you are not hunting around for an image whose name or number you may not remember.
Free Online App Mac, Android and Windows
Our friend Teddy at Two Spoiled Cats makes dazzling use of Lunapic. You can often catch the program at work in his weekly selfie post. There are dozens of options of options, animations and filters all for free. You can also crop images and add text to a photograph. I found a great online tutorial here.
Smartphone Editors
39+ Easy to use categories including smart filters, frames and templates. I have this app and enjoy it a lot. It's Holiday options are limited for fun photo projects unless you use their very popular selfie option. You can also layer different effects and submit them to Photo Lab who display the best in the app itself. The app creates images immediately using your data so I recommend being connected to wifi if you aim to do a lot of image creation.
Apple and Android Free and Paid Options
Snapseed
This Google app is packed with powerful features, including a double exposure effect and plenty of tools to experiment with including grainy looks, black and white, standard sharpening tools, cropping options and filters.
Free for Mac, Windows, Android and iOS
Holiday Focused Smartphone Apps
Because I know that many people love to add a sweet frame or a touch of frost to a holiday image I checked to see if there are special apps for this. There are dozens that do anything you want a photo to do. There are free and paid apps and the quality varies enormously. Free apps usually have an ad or two but the 'Magical Photo Frame' app has so many it is impossible to navigate.
I like the Merry Christmas Photo Editor which is available on the App Store/Google. There is no link as the source has changed several times but search 'Merry Christmas Photo Editor' and you will find it.
The selections are simple e.g. pen for text, smartphone for photos. It is super quick for fun photo projects and low stress for non-tech people. The app is user-friendly and includes frames, text and stickers. You can share an image with social media or save it.
Computer Programs and Editors
Before I start sharing a few images that have been digitally enhanced I want to include some of the most popular programs that are most used on Mac and Windows computers. These are often more sophisticated than smartphone apps because computers have a lot more processing power, and the programs have a wide range of tools and filters for you to experiment with.
I use Affinity Photo (AP) and enjoy it a lot. It is a professional standard program and all of the Dash Kitten photos are processed through AP. You can edit JPEG, RAW and 360 images, stitch panoramas together, sharpen, change colours with filters and dozens of other options. Affinity also has lots of free tutorials on YouTube and short well run paid courses. AP also works seamlessly with Affinity Design (graphics) and Affinity Publisher (print).
Affinity is a one off Paid Program (not expensive). Mac and Windows.
One of the best free alternatives to Photoshop. GNU Image Manipulations Program is open source (free and maintained by the creative community). GIMP is celebrating its 25th Birthday in 2020 so is an established part of the creative community. The program is packed with features and has a steep learning curve but there are GIMP tutorials and help available.
The tribute image below was created created in GIMP by Meezer's Mews and Terrieristical Woofs for Dash Kitten's crew member Harvey. For those on a tight budget and a determination to learn, the program repays a committed course of study with top quality images comparable to Photoshop.
Created as a college undergraduate senior's design project mentored by Microsoft, Paint.NET continues to be maintained by alumni of the program. "Extensive work has gone into making Paint.NET the fastest image editor available. Whether you have a netbook with a power-conscious Atom CPU, or a Dual Intel Xeon workstation with 16+ blazingly fast processing cores, you can expect Paint.NET to start up quickly and be responsive to every mouse click."
FREE (for computer download) WINDOWS ONLY
Viewed by many users as the best Windows Lightroom and Photoshop alternative this is a powerful program packed with essential tools that anyone who plays a lot with their photographs will love. There are more tools, adjustments and selections than you could ever imagine. Paint Shop Pro has RAW, HDR and 360 camera support and a lot of macro tools to make your journey easier.
Digital Image Enhancement 101
When you have chosen your software you will want to explore the kind of things you can do. Welcome to digital image enhancement or (to you and me) Filter Fun! Some of the following list of effects you will know and some will be new to you. Try them out and have some fun.
A lot of the most common and versatile filters are in similar places in many computer programs. They may have slightly different names but if you start to search under 'Filters' you will find effects like 'Noise' 'Distortion' and 'Posterise'. Try them out for some spectacular results and a few weird ones to make you laugh.
The key is to explore, and play without worrying about the results. Here are some of my explorations to try for yourself.
My Demonstration Photo
I have chosen a great photo for my filter demonstration. This is Toulouse taken with a telephoto lens that gives him a soft background. Check out what happens when he is run through a series of filters.
Watercolour Feline
The first effect I want to share is an effective set of 'watercolour' adjustments for Affinity Photo. There are several steps in the tutorial including layers and filters. Unfortunately the written tutorial has been removed from Affinity's site but there is a fun tutorial you can use here.
Other programs have a similar filter gallery or set of filters that will allow you to choose your version of this effect. If you love to explore make this one of your fun photo projects for 2021. You can see the result below and you can recreate a similar effect is a few minutes.
Envato Tuts have a Photoshop version of the tutorial here. Check your own program under Filters, and look for tutorials on You Tube.
Cat profile portrait
Watercolour Feline 2
I hope the next two filters show you how effective your smartphone app can be at transforming your cat into an even more amazing creature. The image was transformed in the Photo Lab app.
I reviewed the available options and discovered 'Sketches and Paintings' had the perfect effect. I opened it and added my photo of Toulouse. The app did the rest and I hope you will agree that the effect is quite amazing.
TIP: Starting with a clear bright photo will boost your chances of a fabulous result.
Every photo app has something similar for you to try so don't be afraid to experiment with your fun photo projects. While you are there look for 'oil painting', or 'fancy filters'. The range is huge and each app will have some that impress you. I particularly love the charcoal filter (Photo Lab) and the monochrome effect (Affinity Photo) shown below.
LunaPic Fairy Art Effect
I wanted to explore something a little bit more exciting to show that you can push out of your comfort zone and get spectacular results.
I chose the Fairy Art effect from the simple dropdown menu in Lunapic. There are lots of options so you will be pleased to know that there is an 'undo' button if you don't like the effect you selected!
When the effect is created you will find a row of alternatives above your photograph that you can click on to adjust your effect. I definitely think this is one of the top fun photo projects I discovered.
A Sentimental Approach
This smartphone filter image is a delight and I love to show this one off because I know my Mum would have loved it. Toulouse is surrounded by an overlay of flowers that frame but don't obstruct his intense gaze. This is another Photo Lab filter but, like many of the filters here, you will find a similar one in your own photo apps.
NOTE: I was going to recommend a selection of apps in this post but, when I checked, there are literally dozens for Android, Apple and Windows and realised your preferences might be different to my own. Many apps do free trials so I recommend that you try a few that appeal to you. BeFunky and Lunapic can be dazzling and are free or have paid options.
If you are new to selecting apps or computer programs you might like to read what one experienced user considers to be the important points that makes an app worth investing in. I asked Cathrine Garnell at Bionic Basil to offer her thoughts on BeFunky an app she uses regularly. BeFunky can blow you away with its effects, here's why.
An Opinion by Cathrine Garnell on BeFunky
Why do I like BeFunky?
Because it's an all-in-one package, whatever you could possibly need to edit or enhance a photo, I think that Befunky has got you covered. It's a total editing suite but one that doesn't require a lifetime to learn like some of the more complex programmes available. Plus I don't want to spend months/years trying to learn something new, I want to be able to do what I want to a photo, and it only takes a few minutes at the most to get the result I'm after and BeFunky fits that criteria for me.
The multiple benefits of the programme
When I first purchased the subscription to the programme, it was purely for the DLX Cartoonizer in the Digital Art section as I wanted to turn fully clipped images of The B Team into funky cartoons, to use on my blog header and the only way that was going to happen was with the paid version. For a long time though, I never really explored its full potential but obviously over time I've delved more in-depth and found some excellent benefits, some of which I was paying for in other apps/programmes. So I've now cancelled those and mainly use BeFunky. So you don't need multiple apps/programmes, as this one has more than enough features – see below – to meet even the most demanding photo-editors needs.
Ease of use
It's a very intuitive platform and requires no training as such, just a willingness to explore what they have to offer, and then experiment on various images to get your desired result. You really can't stuff anything up either, as there's an option to undo something if you don't like it.
Features
They have just added an A.I. Image Enhancer in the general photo editing section, so if you take selfies this could be a real benefit. However, as I only work with B Team images, I don't really need the A.I. Enhancer as my cats are just purrfect! LOL
Anyhoo, alongside all the usual photo editing essentials such as light, colour, sharpen etc. You can also fully clip your images, replace colours, smooth, blur, change the focus, beautify and there are so many options to choose from, that you essentially have endless editing possibilities for your photos.
There is a complete section for Artsy Effects which has many different styles to use such as Digital Art, Gouache, Inkify and Water Colour, just to name a few. There are also; touch-ups, frames, graphics, overlays, text, and within each of those sections mentioned above are myriad options to use, so plenty of features for you to try out and artify your images even further.
Also, there's a Collage Maker and Graphic Designer. I haven't used either of these yet, but after a quick look at the Graphic Designer, I'm super impressed at how many templates they have to meet all your possible wants and needs, especially if you do a lot of social media posts.
BeFunky Summary
For me as a blogger, it's the ideal programme as it's simple, effective and gives great results in the least amount of time plus at US$34.95 per year, I think it's fantastic value for money.
A Double Exposure Adventure
I want to introduce an effect called Double Exposure for you to try. Not every smartphone app has this effect but it is an option in Snapseed.
This is an easy way to try some fun photo effects in a free app. I am still learning how to use Snapseed but managed to create a tribute to Harvey from two layers featuring an Amarylis flower and my favourite picture of him sleeping.
Creating a Snapseed Double Exposure:
Open the Snapseed App.
Select a photo from your device
Open Tools and scroll up to find 'Double Exposure'
Tap this and the image appears.
Add a second using the image+ icon at the bottom of the screen.
You can also create double exposures on your computer. This involves using layers and filters which you can explore for yourself in your own program. It is a little bit more complicated but can create astonishing images. This style of digital image editing is worth exploring if you love creating ethereal and magical pictures.
Creating a Double Exposure is not the easiest technique but the Snapseed version on smartphone gives you a good chance to play around for free as a beginner. For computer users there are online double exposure tutorials for Paint Shop Pro (video) and Affinity Photo if you have the programs. Affinity have a free Double Exposures Course for you to try and the results can be spectacular. The adventurous beginner can have a lot of fun.
BONUS TUTORIAL: Creating a Grunge Filter
Sam, our former foster was the purrfect model (until he was adopted) and I love this selfie of him. After my Snapseed tutorial this week, and some time learning my new smartphone, I wanted to get back to Affinity Photo on my computer and enjoy the bigger screen. I am exploring an Affinity Photo filter tutorial you will enjoy using too.This tutorial is the same one I have included in my Four Fun Photo Projects but I am spsotlighting it here because it is very easy to do, and the results are also always interesting, which is why this post is called a cat portrait with grunge filters.
Grunge Drama Cat Portrait
I used this filter in one of my CWA prize-winning photos of Toulouse if you want to check out the results immediately.In Sam's portrait the range of colours is limited. This is a closeup portrait of a ginger cat with a soft background. There is not much for the filters to look for to adjust as extra colour.
If you read through the watercolour effect tutorial, (which is not a hard one) even if you do not have Affinity Photo software, you will see how each step of the process adds a different element of texture or intensity of colour. These adjustments you will be able to recreate in your own photo editing software.
The exciting thing you need to remember as a beginner is that each of the individual adjustments shown in the tutorial is within your control. Check each slider and intensity option you have. Each one can can make a difference to the end result of the cat photo you are working on. This applies to every software or smartphone app e.g. GIMP, Paint Shop Pro, Photoshop, or Photoshop Express.
The adjustments give you a lot of control and help you create an image that best reflects your feelings about your cat. If you are not sure what to do. Watch vides or read posts, like my Snapseed tutorial, and invest a bit of time in practice. Don't set any expectations, just play and have fun. If you love the results save your image, if not there's always the delete button!
What do you think of grungy Sam? I still think his look is intense, but it's a different kind of photograph altogether, isn't it?
Wow! Now that was a journey! I hope you have found an app or technique to experiment with. I would love to see your results.
This post is the Winner of a Muse® Medallion Award from the international Cat Writers' Association.
The Other Challenges in This Series
You can do any or all of the weekly challenges. This is a fun holiday project to lift our spirits in these tough times. A cat photo adds a touch of magic to every single day.
---
Cat Photo Tips and Resources
What is a Fast Lens? – "The aperture of a lens is the mechanical opening inside of the barrel that allows light to pass through to the sensor of the camera. The aperture size is what determines the fastness of the lens. If an aperture is large and allows a lot of light through, the lens is deemed fast." Lens Speed
Smartphone apps to explore include Photoshop Camera App, Snapseed (Google and iOS)
What is a Double Exposure – "Double exposure is a technique that combines two different exposures or images that are layered on top of each other. The image overlaid is less than full opacity so a bit of both images can be seen producing an almost ghost-like image. They tend to produce uniquely stylized images." StudioBinder