Today's post is late because we were invited to take a sneak peek at Neko Ngeru Cat Cafe here in Lower Hutt which is very exciting.
The cat room is not yet open to the public because Neko Ngeru are waiting for the official go ahead from Hutt Council. All the official checks need to be done, all the T's crossed and the i's dotted. But, for an exciting hour we have been able to meet with the first of the cats making the move into the cafe for opening day and I can share some of the excitement here.
All of the cat furniture is in place, and there are comfortable sofas and bean bags for customers to relax in. There are small tables ready for refreshments from Cafe Soleil downstairs and plenty of wonderful kitty parkour around the walls. You can see Delilah posing by one of the cosy sofas right here!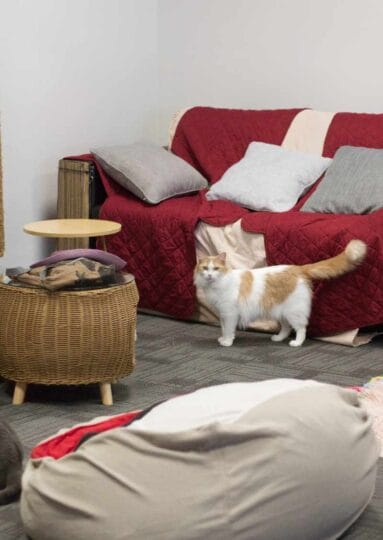 The cat running wheel you can see in this photo is beside a glass wall and both the cats and the wheel are visible from the cafe downstairs. As you can guess this is causing a lot of excitement as people lookup and see movement!
The pretty tabby below you see was quite shy at first but she came down after a while and enjoyed playing with a feather toy. I remember that some of the new cats at the cafe in Petone used to hide when the cafe got busy and I feel it is a great idea to have some 'me time' spaces for the cats.
Delilah, who is a pretty cat, decided to say hello to Paul! I had to try very hard not to laugh while I took the picture.
So the countdown has begun to the grand opening of the new cat cafe. Look forward to some spectacular photos in future weeks.