Today's selfie is a lucky chance, as photographs of cats often are. This is a local neighbourhood cat. I do not know it's name or even if it is a he for a she.
I am calling this picture Tall Black Stranger Cat after the 'tall dark handsome stranger' people are often told is in their future when they visit a fortune teller at a fair! I don't think there are any tall black cats in my Kuykendall Tarot deck, I had better check!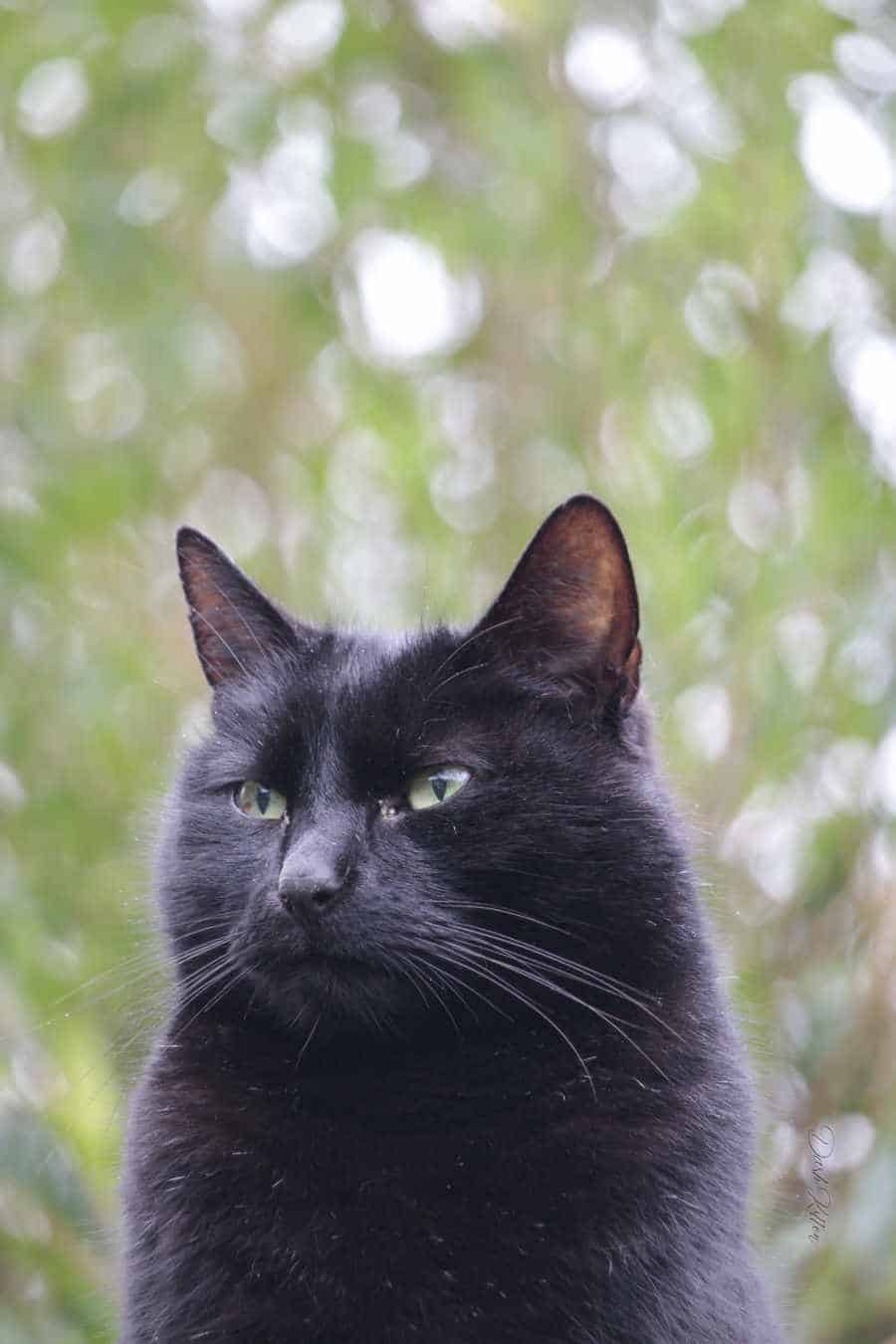 How I shot the Tall Black Stranger Cat!
I saw the black cat out on the fence next door and took the chance to grab a quick portrait. I had seen it cross the garden then stop by the deck where it sat still!
Grabbing my DSLR camera I put on my 55-250 mm telephoto lens and sidled as carefully as I could in the cat's direction. I began at a 'safe' distance, taking photos as I moved in. I said hello and approached at a very slow and patient pace.
I tried to keep the light ISO as low as I could, 400 worked for this portrait and added a small amount of dodging to lighten the deepest areas.
I wanted to experiment a bit with my camera settings, which I always encourage you to do, I tried Manual mode and also TV (S on a Nikon) with results that varied from inky black to super sharp. Aperture Priority worked best here, but always push the boundaries of your camera.
Pushing the limits of your smartphone camera too
Push your camera gently by moving in close, or zooming in from far away. Check slow-mo, time-lapse, panorama and portrait.
Use every idea you can think of – high up, low down, behind, in front. Sometimes you will be rewarded with a fabulous picture, like these cat photos of Toulouse, and Jack. If your image will not be a success it's no big deal, you will have fun learning your smartphone's capabilities. Some of your failures will make you laugh which is always a bonus.
Never forget to have fun with your cat photos!