Saturday is Toulouse's Gotcher day and I am posting our selfie a bit early to allow us to celebrate with a showcase of fantastic tabby photos. He has become a real family tabby cat.
Toulouse was collected by us on the 11th of September 2020 from Neko Ngeru Cat Cafe. He had been rescued from the Eastern Wairarapa by a lady called Fern who caught him in a possum trap on her family's station (farm). Apparently, he was totally feral but she took a chance on rescuing him!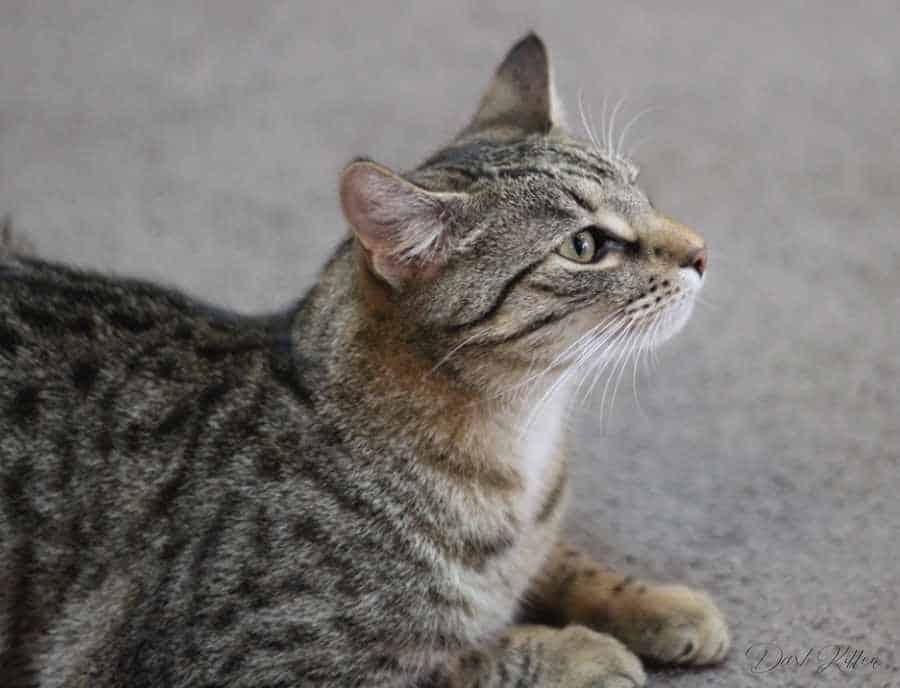 The cat cafe wanted Toulouse to go to a home with a cat family structure already established, so he could learn how to be part of a family and behave properly, respecting cats and fitting in with a group.
At the cat cafe he was sociable enough and mingled happily with the cat community but he was never a great one for sitting on laps and giving cuddles. He did not have the 'cuddle appeal' of many of the cafe's eagerly adopted younger kittens but during his time here he has settled into family life and become a confident young man cat.
Toulouse and the Cat Flap
To our amazement, it has taken Toulouse nearly 12 months to begin to understand the concept of the cat flap. I am sure he looked on it as some kind of TARIDS. He still doesn't like to use it too much and avoids using it in favour of an open patio door when I go out in the garden.
His favourite inside napping spot is a window hammock that overlooks the cat flap and he watched as weeks and months passed but he never bothered to go out. It is only in the past weeks he has made an effort, probably because spring is on the way!
As you can see from this photo, Toulouse enjoys garden activity and in spite of healthy eating, he maintains a slim and healthy weight.
A Family Tabby Cat Portrait
Toulouse is, I am glad to say, the perfect model and while he doesn't 'pose' he holds graceful or attentive positions long enough for me to grab my camera. I think I am lucky with him but even if your cat doesn't want to sit still you can take similar photos.
He may just have lazy moments but, whatever the reason, I can grab some lovely portraits and in the process improve my photography and become more confident with my camera use and my lenses.
This lovely autumnal photo of Toulouse was quite dark when downloaded it, as I misjudged the settings. As I had shot the photo in JPEG and RAW on my DSLR I was able to lighten and sharpen the image slightly so Toulouse looks amazing!
A Tabby Hunts Grass
Something our other cats have no interest in is the ornamental grasses near the front deck. Toulouse on the other hand finds them the perfect spot to play. He hides under the spreading plant ready to pounce on his buddy Thomas, or best friend and neighbour Wyatt or he naps in the welcome shade of the plant (which is big enough to cover him entirely. The grass is also a fearless adversary in their fights ready for a return bout at any time.
Happy Gotcher day to our brave tabby boy!
Want to improve your own Cat Photos? Check my How to Compose Great Cat Photos page.
---