I wanted to celebrate today with a few cute pictures of Harvey.
Enjoy the good times with us.
Harvey loved being part of the themed #Nipclub evenings on Twitter and @RealFakeGator created some wonderful costumes for him.
Harvey won a beautiful bowtie from KahnCats on Instagram. They are based in Vienna so it travelled a long way for him to wear. He was patient wearing once but it looks amazing!
In this next lovely picture Jack and Harvey sit companionably side by side on the back deck.
It must be one of my worst photos but if I had moved outside to take a better picture, one of them would have moved away. I would not have spoiled the moment so fuzzy it is.
---
I want to celebrate our cheeky stubborn and brave boy Harvey and share some of the families' favourite pictures and events from the time he lived with us. Please join me in celebrating Harvey Button.
Harvey came to Dash Kitten as a foster. His Gotcher Day is 14th September. Harvey had been trapped in a local suburb. He fit in with the Crew so well that within weeks we had offered to adopt the nine-year-old white cat we remember on today's Pet Parade. Harvey has decided that he was going to leave 19.44 local New Zealand time on 7th of June 2020.
Harvey Joins the Family
Our vet Dr Hughes gave Harvey a thorough examination and pronounced him fit with possible skin cells on his ears that might cause issues later on. He cautioned us that after Harvey's previous experiences of being bullied and a hoarder victim he might never want to go outside again.
Harvey Defies Predictions
It took 18 months of patience waiting for Harvey to gather his courage to venture on to the deck and back garden, but he did.
He was finally encouraged to venture into the garden by Miranda our tuxedo girl. She would go outside but not go far, showing him that the deck was a safe place if she was able to go out there.
With her gentle encouragement and example one day he did, venture outside and it was a cause for celebration. Harvey never went too far, just out on to the grass, or a walk around the house or down to the local very small stream.
Harvey Lives the Gentle Life
He had begun to settle in and, step by step, Harvey began to feel at home and part of the family. Days, weeks and months went by, and Harvey became the greatest gift, an 'ordinary' cat who had a real and settled home he knew was not going to disappear.
This realisation for Harvey was worth its weight in gold. It was our greatest gift to him. He could lounge out in the back garden's summer shade and know that Miranda would be happy to lounge nearby, or he could relax alone and he was completely safe.
In August 2018 I took a portrait of Harvey I knew was good but I did not have the skills to improve it. As a newbie photographer I asked for help in the Cats with Blogs community designer and photographer Glogirly worked wonders with my portrait, transforming it into the picture I wanted it to be.
It is still one of our favourite photographs of Harvey.
As time went by Harvey gained in confidence and went from being reserved around Paul to sitting on his lap and thus began the friendship with his cat dad that involved waking Paul up nightly by sitting oh him and sneezing in his face.
If Paul hid under the duvet Harvey simply pawed the duvet off!
Harvey also won a handsome bowtie in a giveaway on Instagram by the KahnCats. He was kind enough to wear it for me.
He also love eating from his raised bowl that we bought from Japan. Our friend Ken at the cat cafe helped translate the site which was in Japanese and the result was a beautiful bowl Harvey really enjoyed using.
Harvey Loved #NipClub
Harvey was a regular at #nipclub and 'barktender' for some time. He loved visiting the Thursday night meet-ups on Twitter and the camaraderie. The friends he made on Twitter and the times there were happy for everyone.
Harvey's Ear Surgery
September 2016 was a month of drama. Harvey was diagnosed as having pre-cancerous squamous carcinoma on his ears and our vet Dr Hughes recommended that Harvey have his ear tips removed to remove as much of the cancer risk as possible. I wrote a report on my experience with Harvey's surgery because I was a bigger worrier than Harvey was.
I worried about him feeding properly with the buster collar but he managed fine. I counted down the 10 days until checkup time, he took each day as it came and coped admirably.
Harvey was transformed into a 'Fold' cat and people adored his sweet look. He did what Harvey always did, he coped, he adapted and he went back to enjoying life.
Harvey's Drinking Demands
Harvey was stood in the hallway one day when Paul walked by with a glass of water. On impulse Paul offered the glass to Harvey and the slippery slope to totally being a totally spoiled cat had begun.
Harvey began to demand (and get) a nightly glass of fresh tap water on my bedside table. He would not drink the water if it came from the bottle I hoped would save me getting up in the night to refill his glass. Oh no, bottled water would not do.
He would often sit and look at the glass waiting for Paul or myself to pick it up and hold it for Harvey to drink. Spoiled? I think so! We were happy to do so and do everything we could to enhance his life.https://player.vimeo.com/video/427184266?dnt=1&app_id=122963
Harvey our Superstar
Coryelle Kramer, animal communicator told me that Harvey looked on his troubles as challenges to be overcome. He rolled with the punches of ear surgery and teeth extractions. He stood on his four paws up fearless and strong.
Every picture posted on Facebook was greeted with smiles and comments by his friends and outstripped anything else I posted in likes, hearts and shares. Paul suggested that has Dash lived, that Harvey would have given him a run for his money as the joint superstars of Dash Kitten blog.
I have to smile because it's true. Both cats never failed to generate excitement and love and friendship whenever they posted on the blog or social media.
Harvey has been a part of our family for almost half of his life and Paul and I have loved and treasured every minute, every challenge and every day he has been with us.
The Honour Guard
One last thing I want to share. When we took Harvey down to the vet's for his cremation I went ahead into the surgery to make sure it was OK to take him in. There were only cats in the surgery when I entered, which was unusual, there are often more dogs than cats.
The boss of HUHA, Carolyn came out to escort Harvey's body inside, and the surgery cat Bonnie sat just inside the door waiting to welcome Harvey inside. She was not waiting to go out and when we entered she returned behind the reception desk. A real honour guard for Harvey and it touched us both.
No-one can take his place and no one will, but he taught me so much about patience, kindness and standing tall on your own paws that his impact will be felt for years to come.
---
Happy New Year to all of our fellow Sunday Selfie explorers.
I hope the Dash Kitten Crew will see you every week this coming year as one of our favourite pet hops continues to be a great place to touch base every week! After our Christmas Summer holiday we are working our way back into the world of blogging again.
So, let's get into some selfie action.
Today's Selfie Action is Harvey
Harvey is seen here enjoying the New Zealand Summer sunshine this past week, and yes that is a milky beard from enjoying some cat milk.
Harvey wants me to send best wishes to everyone in the hop and especially Miss Janet and the Kitties Blue for their weekly hosting of the Selfies which allows Harvey and I, as bloggers, to keep up with friends.
---
A Happy Moment for Harvey
Today I want to share a brief happy moment that includes a first for Harvey.
I will be using this picture again but want to shine a spotlight on it now as this is a special happy moment. Here's why.
Harvey has taken over four years to be confident around Dash Kitten dad Paul. For a long time, he refused to be stroked or brushed by anyone except me.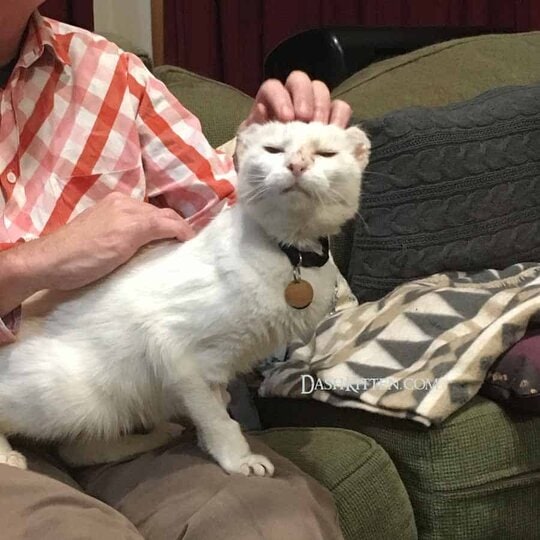 This smartphone photograph was taken a few days ago after Harvey was over the worst of his dental extractions. He had been for his follow-up check and continues to look as good as a stage 3 kidney disease cat ever could.
It is lacking in focus and was taken from about 2 metres (about 6 ft.) away, and in a hurry but, as I have said previously in a post, it is a magic moment and capturing it had little to do with quality.
Here Harvey calmly walked on to Paul's lap and enjoyed chin rubs and head scritches for a long time before stepping on to the heated bed covered in a fleece blanket. Paul was thrilled as this was Harvey's own idea not him patting his lap and encouraging Harvey to take the step.
Thankful Thursday comes up with some lovely happy moments if you are a regular reader of Brian's blog. Does your cat surprise you with uncharacteristic poses?
---
A Portrait of Harvey Button
Many of you will know the story of Harvey Button and his arrival just before Dash Kitten our Founder Cat was killed. I even have a poor quality picture of Harvey and Dash in the kitchen together (which is how I remember)!
To celebrate #AdoptASeniorPet month, a bit late, we want to celebrate with our own senior white cat – Harvey.
It occurred to me that I had not taken many pictures of Harvey since he became ill with Stage 3 kidney disease. I am not sure why. Maybe it is because he has lost a lot of weight, looks frailer and thinner than we all expect a cat to look, (and which people sometimes don't want to be reminded of).
Or, simply because the ear drops that we use to clear up ear mites trickles out a bit. Harvey had his ear tips trimmed some years ago (sun damage), and he looks punky sometimes!
I decided I want Harvey to stand tall as a senior cat. Frail, and slender though he is, Harvey is a senior boy in his forever home.
He is stubborn and determined to get his own way. He even uses the threat of peeing in the wrong place to get more food if he is hungry. And waking his dad Paul, and myself at 5 a.m. is something he does a lot now * sigh *.
I remember Coryelle Kramer who I met at BlogPaws® said Harvey considers his previous troubles as 'challenges'. I believe they do not define him, his life with us from aged 9 does that.
He is courageous, calm and it is an honour to care for his as a senior cat who celebrated his birthday on the 19th of September.
Yes, he has lost weight, as a senior kidney cat does, but he is our Harvey and ours as long as he wishes to stay. When a picture of him is posted on Facebook it always out-'likes' any other photo I post!
I know he is highly regarded by his friends and he is very fond of Miss Janet and the Kitties Blue who host our favourite hop. Thank you for being our friends, everyone.
The Dash Kitten Crew wish everyone a good week and encourage you to celebrate #AdoptASeniorPet Month with us.